It's been a few weeks now since the Salesforce World Tour, and whilst it feels like it came and went in the blink of an eye, we've returned to our desks with fond memories of the day. Now that the excitement has simmered down, we've been able to reflect on, and realise, all the key learnings we took away from the event itself.
In this piece, we will recap not only the important takeaways from the day, but also allow you an insight into the Lightning Platform. This is the perfect time to find out the benefits of using this new user experience, and what we at Stimulus think!
The theme of the event was introduced as the "Age of the Customer" – with the core focus of Salesforce.com being on you, the customer and providing you with a platform that can build and shape with you far into the future. The platform provides a first-class, modern day customer experience, with all the information you need at your fingertips.
The Lightning Platform, however, takes this usage one step further, and provides a "one platform, one experience" approach to deliver customer service excellence. The modern user interface and experience gives users an intuitive application that easily adapts to individual needs. This was underlined by the two real-life case studies presented to us on the day, with Aston Martin and ABB showing us how they have harnessed the full power of the platform.
Aston Martin have created a community for their international dealerships, where information can be shared between dealers and Aston Martin UK. Using the Lightning Platform, users are able to access information in a similar user interface to the Salesforce1 mobile application, giving a consistent approach. The Lightning Platform is optimised for speed, providing data at a dealer's fingertips when they need it most.
One of the most enlightening parts of the day for us was the traction that is beginning to build around the Lightning Platform. Whilst it was interesting to hear that 90,000 customers have already migrated to Lightning to take advantage of the new features available, the pull of the platform is beginning to be felt so much more by customers of all sizes and across all sectors.
For those implementing Salesforce next year, Lightning will be enabled for you – for the rest of us, we need to enable this ourselves. This is the perfect time for you to start your journey with your users, by becoming familiar with one single user interface, and using new features such as the Opportunity and Lead Sales Paths and the Opportunity Kanban.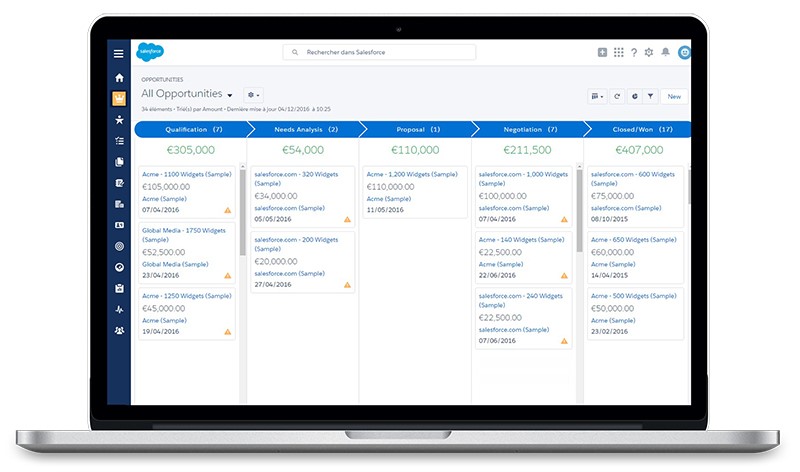 We love the Kanban, which is a visual summary of all Opportunities in a particular sales path on one page. This helps you to effectively monitor the pipeline and keep sales moving forward, whilst giving you a drag and drop interface to easily move your Opportunities into different stages, as well as alerts to guide you to closing the deals more quickly!
Not everyone is quite ready for Lightning yet. Existing customers using the classic interface need to decide which interface is right for them, and re-evaluate their decision regularly. When Lightning first rolled out, it didn't support all of the functionality our users love and are familiar with. However, during the past few releases, as planned, further functionality is now supported by the Lightning interface.
If you decide Lightning is right for you, then you can trial it first. The Lightning Experience Migration Assistant lets you preview your live org in the interface. This is a great way to see how your real data and customisations work in Lightning! You can also switch on Lightning for a small set of users with a permission set.
So, having looked at the "why?", one of the questions we get asked a lot is - "When should we be looking to make our move to Lightning?"
The answer is clear - you should be making your plans for migration now, even if you don't make the leap immediately. Over the last year since it became available, we have seen Salesforce pushing more and more functionality into it and the platform has been used by the early adopters and developers during this time.
Their feedback has been helping shape the platform to the customer experience it can provide you today. It's not just about a new, funky interface (although this is a pretty cool upgrade on classic Salesforce in itself!), it's a re-design of the platform that sees it become even easier to work with than before. There is more ability to customise Salesforce with 'clicks not code' functionality (beads of sweat break out on the brow of old school developers), more powerful tools available to developers, and it is becoming far easier to integrate other systems into the platform.
Our advice is that you start planning the move now, switch on Lightning for the administrator only and see how things are different. Start by building a communication plan for your user base, develop a training plan to support the transition and mark the date in your diary when you make the leap. After that, with everything planned in advance and effective user support in place, sit back and relax as you see your adoption metrics fly....
If you have any further questions about moving to the Lightning platform, or want to find out more information, contact Stimulus Consulting at info@stimulusconsulting.co.uk