The cloud scheduler is a great tool that few people know about. Want to know more? Then keep reading!
The cloud scheduler is a great tool that few people know about. It enables you to propose up to 5 meeting times for other attendees to select from. No more wasting time going backwards and forwards trying to find a time that suits all parties. You can also ask Salesforce to automatically propose up to 5 meeting times for you, based on your availability in the Salesforce calendar.
When requesting a meeting through the Cloud Scheduler it creates a new webpage for your meeting that displays all of the proposed meeting times. The invitees receive a message informing them that they have a request to go to the meeting with you, it also gives them the ability to look at and select the meeting times that suit their availability. They can then send a reply.
Salesforce tracks all of the responses for you so that you can pick the best meeting time based on the attendee's replies.
This functionality is available in: Group, Professional, Enterprise, Performance, Unlimited, Contact Manager and Developer editions.
To enable this in your organisation you need to have these permissions:
"Edit Events"
"Send Email"
But how do you do it?
1. You request a meeting and propose the meeting times:
To do this you can go two ways. One way is to go to the Open Activities related list on the detail page of the contact, lead, or person account you want to request that meeting with. Click New Meeting Request to open up the Meeting Request Page. The other way is to go to the Home Tab and scroll down to the Calendar section and click New Meeting Request.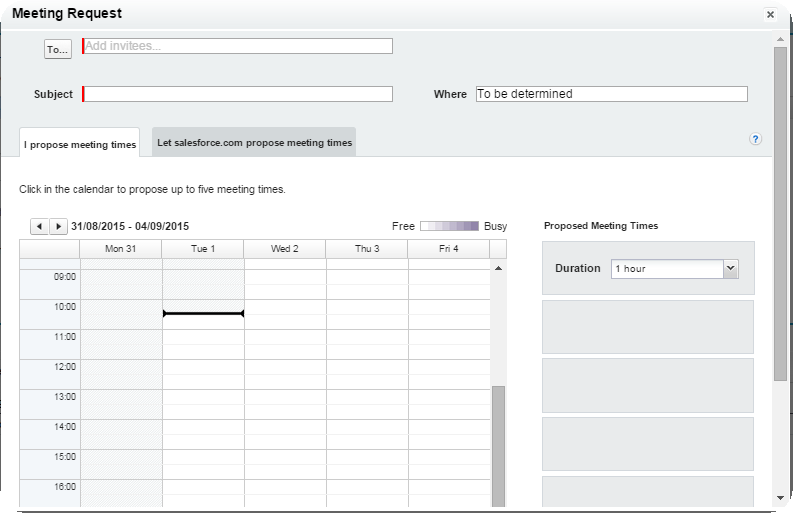 2. Select up to 5 times that you are available to have the meeting, by clicking into the Calendar: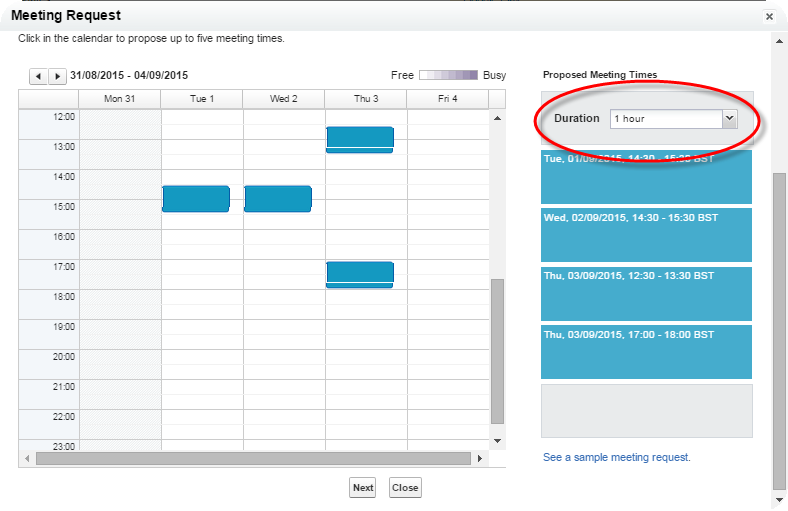 You can change the duration of your meeting by selecting a new duration from the drop down.
Salesforce emails a meeting request to the invitees, so that they can choose what times they would be available for.

3. You are notified by email when your attendees respond, and you can see all responses by clicking back into your Requested Meeting. Salesforce keeps track of all of the replies here so that you can see which times are best suited for everyone to be able to attend.
4. Confirm the meeting time based on the feedback you have received. A confirmation email is then sent to everyone invited to the meeting.
Aside from regular blog posts on all things Salesforce, we also provide Salesforce training courses and Salesforce tutorial videos.