The excitement about attending the London Salesforce World Tour event was soon accompanied by another strong sentiment; Fear of missing out! Here was a great potential to learn new information, experience Salesforce demos, join in discussions and otherwise interact with the Salesforce community. I wanted to make sure that I would get 110% out of the event.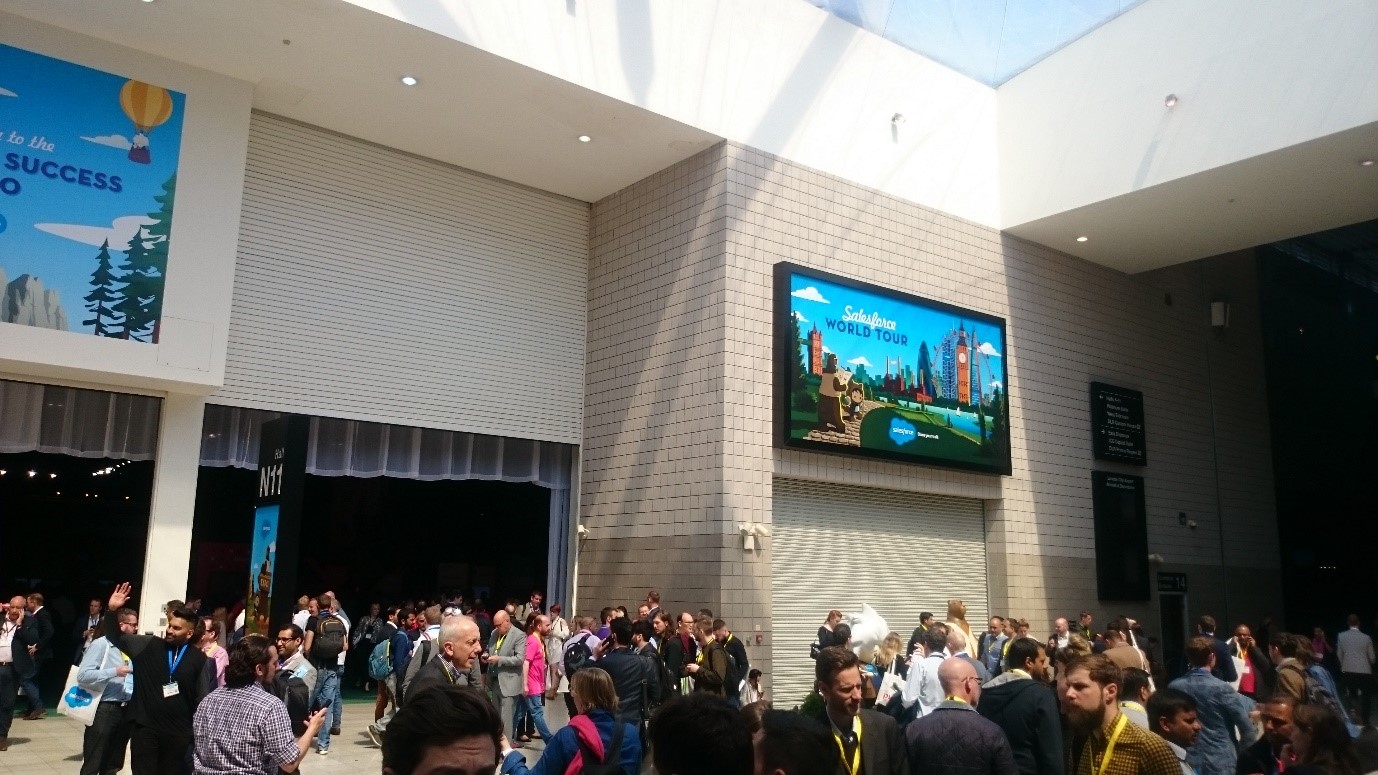 My first step was to download the Salesforce Events app. What an amazing resource to get an overview of the scheduled agenda, a summary of breakout sessions planned and their locations. I went through the list of sessions and marked all interesting and relevant sessions as my favourites. This left me with three to five alternatives to choose from for any single session. If only there was a way to attend everything!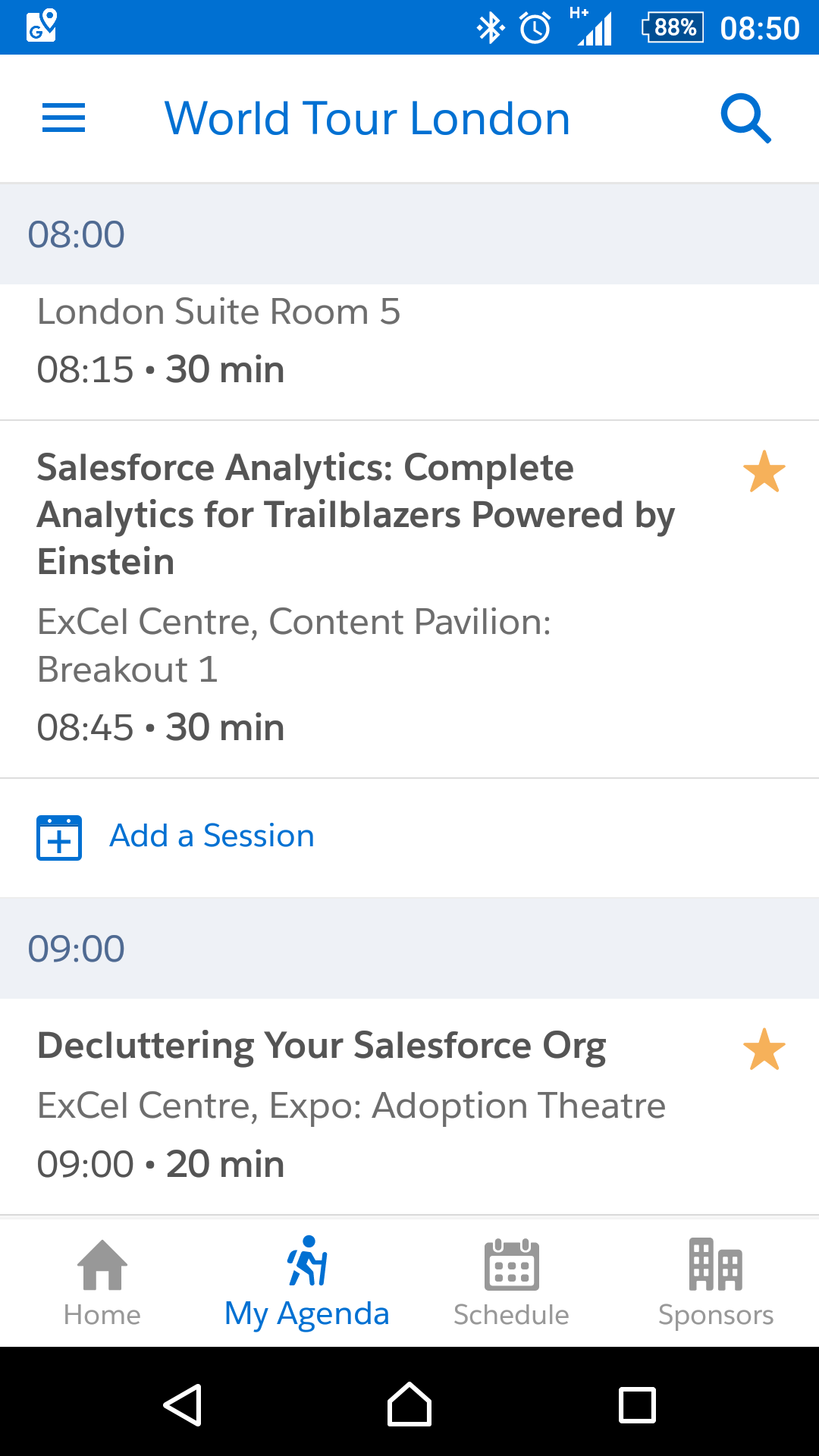 Upon check-in I received a trail map brochure. The map was an incredibly useful tool when you are trying to navigate a place as large as the ExCel centre in London. If I found myself lost I could always ask the trail ranger (staff member) for help. Armed with the app and the map, I had all I needed to explore.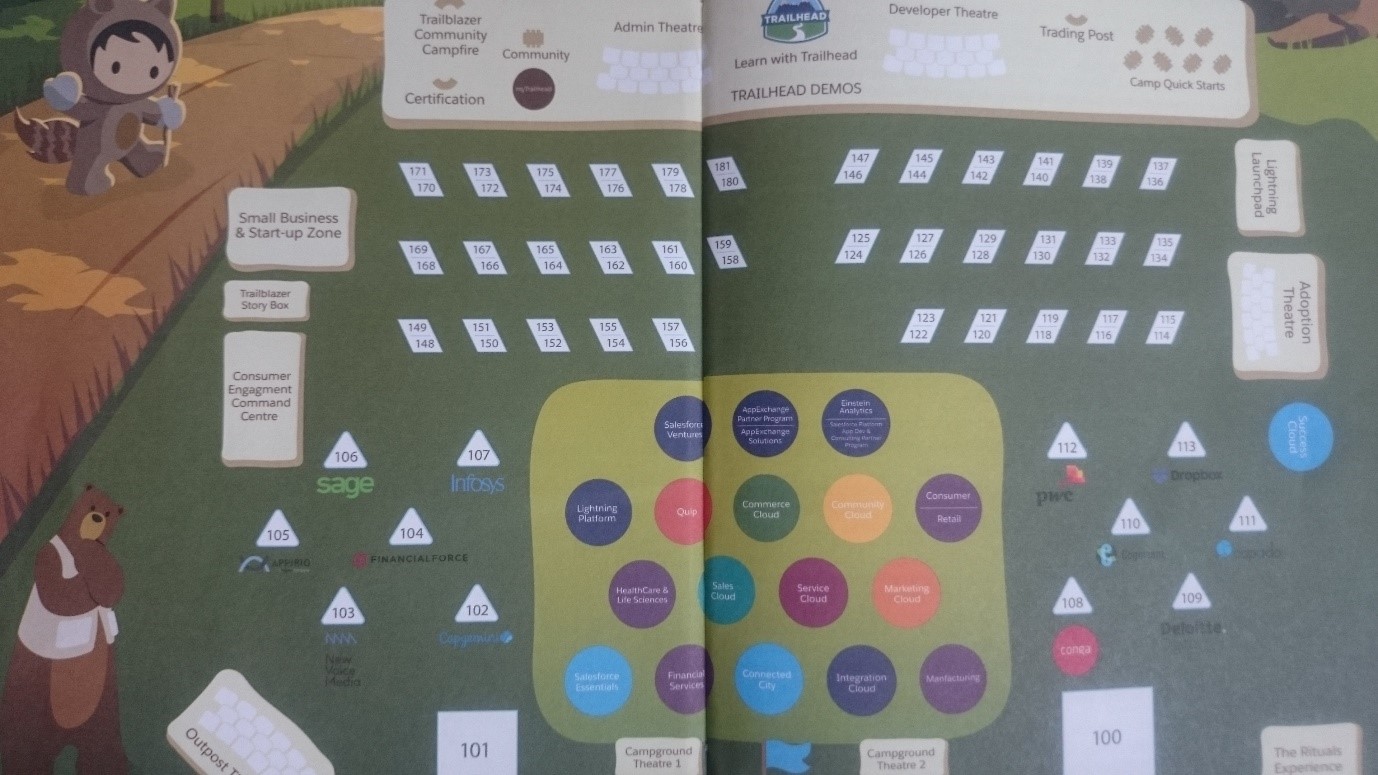 I started the day with a Circle of Success discussion about data reporting. This is a very useful discussion topic for me in my role as a Certified Salesforce instructor. I learned from a fellow participant, Andy, that focusing on insights rather than metrics could be an interesting idea. The goal is to look forwards rather than backwards. It's a change that could not just impact analysis but also collaboration and organisational culture.
I like to keep up with Salesforce data analysis capabilities. Keri Brooks presented on basic and advanced analysis. The basic tools that Salesforce provide are built-in reports and dashboards for more advanced analytics we can use Einstein Analytics apps to assess data trends and changes. New Einstein Forecasting and Field Lightning Analytics enhance Sales Cloud Einstein and Service Analytics apps. The Einstein Analytics platform offers full data analysis functionality.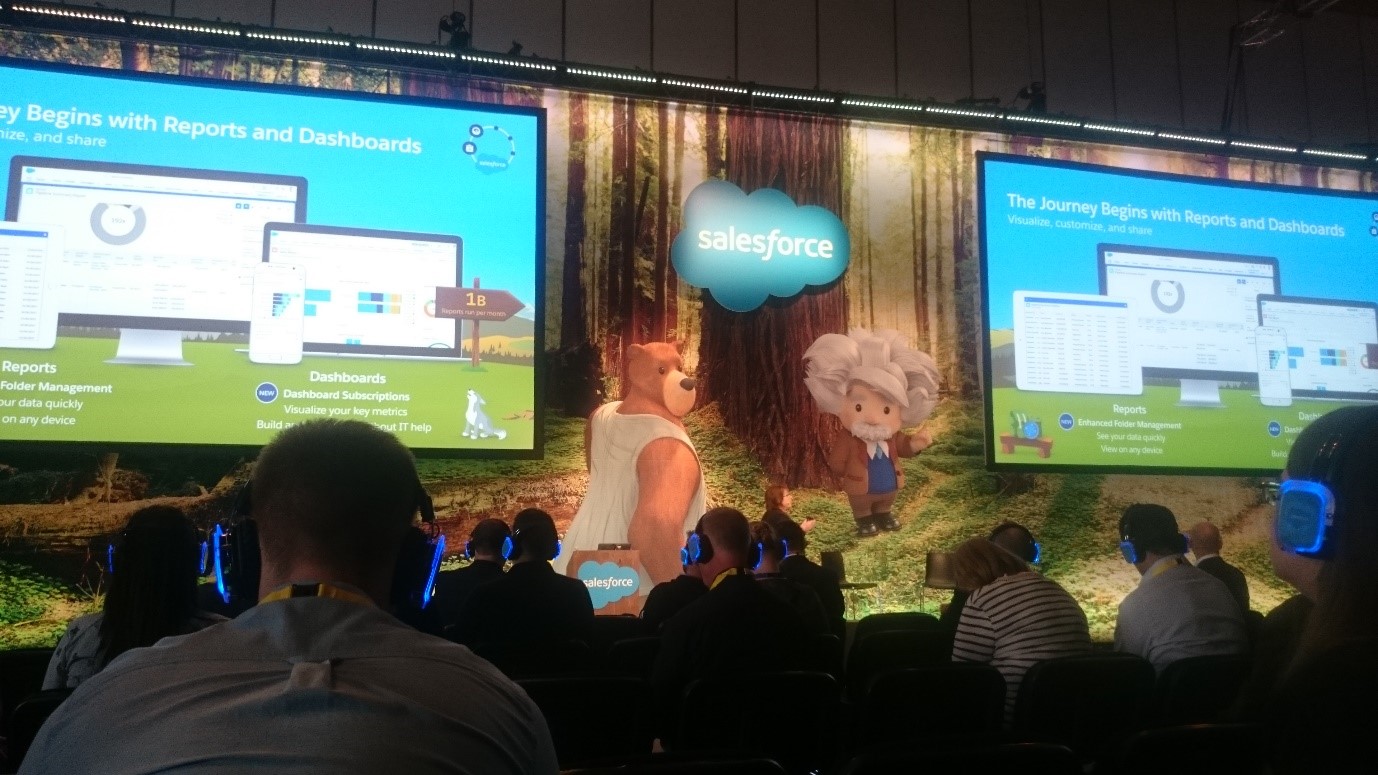 I watched the FinancialForce presentation about how they use Einstein Discovery, the artificial intelligence part of Einstein to get insights.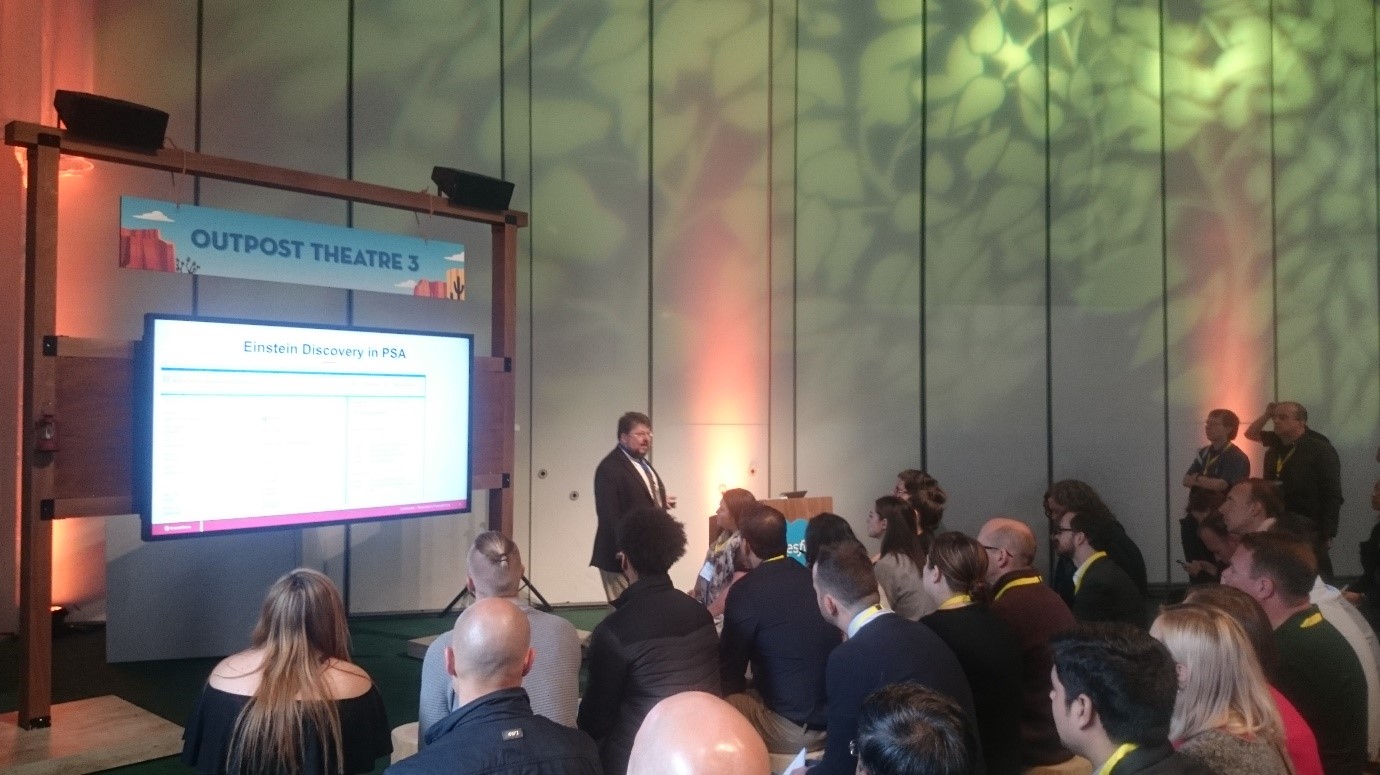 I finally found more information about Sage Financials. Sage and its products repeatedly oscillated around me throughout my Salesforce career. It is impressive to see integrated invoicing from inside Salesforce.
Walking the floor, I found out more about another interesting product that is promising to improve learning and knowledge transfer: myTrailhead. Starting this summer, it will allow for customised trails with customers own content. Public trails can be used as a template or a starting point. You can also monitor your team's progress with the Trail Tracker app.
The Keynote was one of the highlights of the event. Main speaker Simon Mulcahy spoke about key Salesforce values: trust, customer success, innovation, equality. He elaborated on the MuleSoft acquisition and the new product called Integration Cloud. I was excited to see the natural language query building demo for Einstein analytics.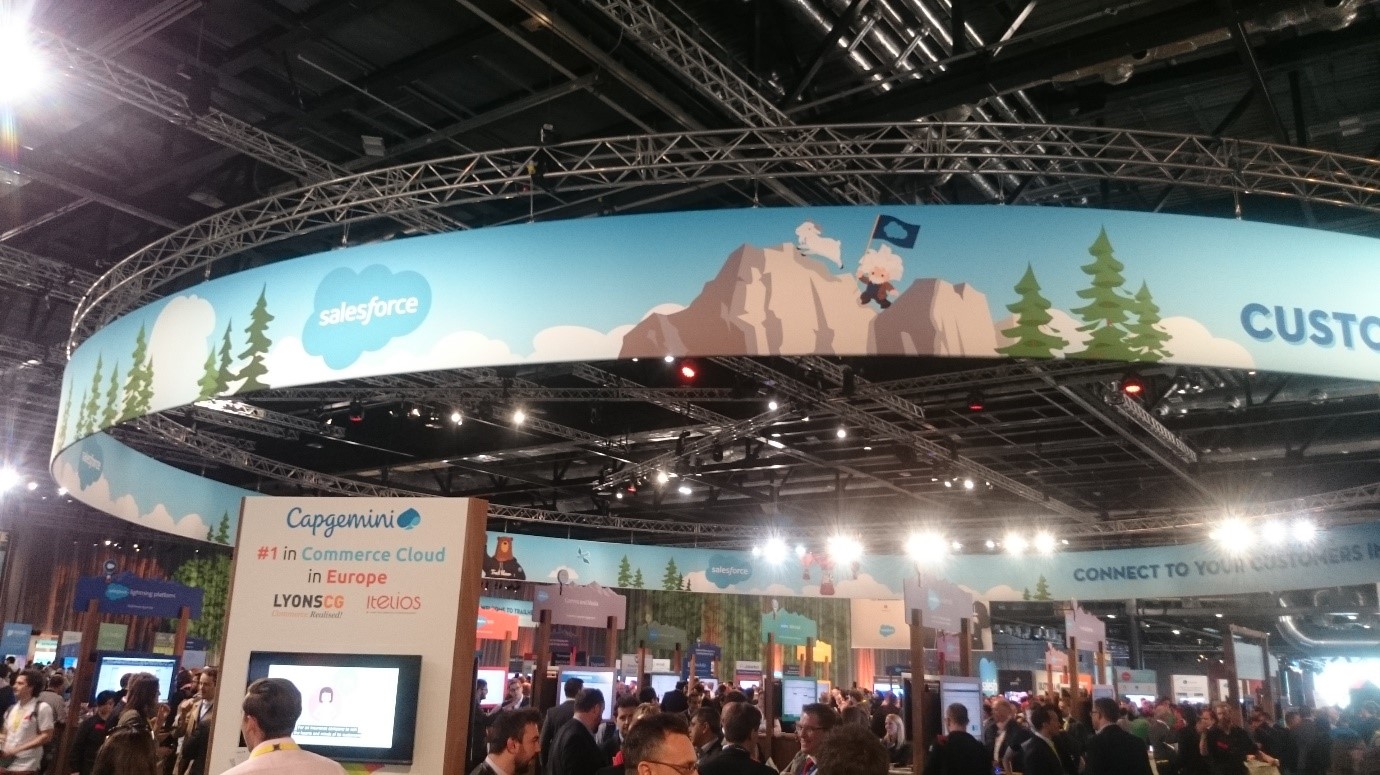 Whilst walking around I met one of my students from last year. Gareth and I had a discussion about the potential benefits of the Einstein Analytics platform. We even exchanged suggestions about interesting sessions to attend. The World Tour offers a great opportunity to catch up with acquaintances.
The Lightning platform roadmap session presented by Dylan Steele was especially interesting. Lightning experience will introduce the compact view to complement the established cosy view. This view will present up to 30% more information on the screen due to the dense presentation. Admins will be able to configure dynamic pages and show or hide components based on a formula rule. Lightning app builder will be improved. Existing building block components will be enhanced and new ones such as Google-based map components introduced.
Towards the end of the event I sat down next to Peter Coffee, Salesforce Strategy VP. This was a happy accident as Peter was the keynote speaker for the first Salesforce professional event I attended, Midwest Dreamin 2015 in Chicago. We discussed the growing number of Salesforce events and size of the community. And, you guessed it, I could not miss that selfie opportunity…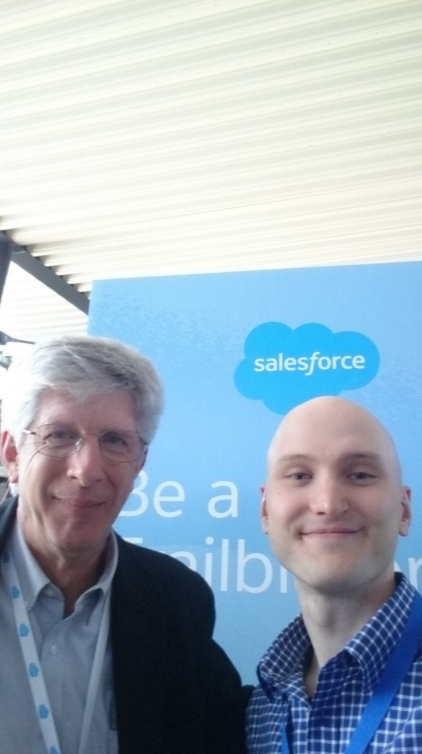 I have tailored my World Tour experience based on my interests. I have to say I have met many interesting people, seen insightful demos and learned and learned and learned so much in one day. I can only recommend the event to everyone. See you all again in 2019!