For many customers, looking for help and support from a Salesforce consultancy can be a minefield knowing which way to turn. The Salesforce ecosystem is a really large place and trying to find the right Salesforce partner is like looking for a needle in a haystack.
This is where the Salesforce Partner Program steps in. Consultancies can apply to become part of the program, building their expertise and leveraging partner community tools to help customers even more. From the customer perspective, you get the reassurance that the consultancy you have chosen to work with has gone through the program's due diligence and has met the qualification requirements which includes having certified individuals.
Although certifications are not the only way of measuring knowledge, they are a respected Salesforce industry standard, and you can easily identify the knowledge held by your chosen partner.
You can also find consultants through the AppExchange. The AppExchange gives partners the ability to showcase a portfolio of successful projects and implementations which a customer can review.

Customers can gain confidence that they are working with a reputable partner that has recent and relevant experience.
Many consultancies have different services and expertise, which are also visible on the AppExchange.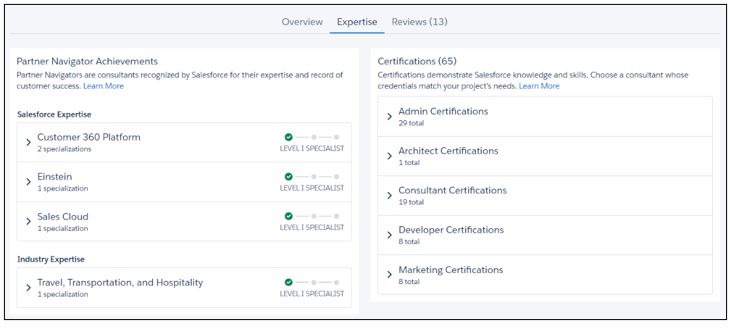 If you want to know more about what a partner can offer, just contact us!