It's that time of year again! Salesforce has released its Spring '21 Release notes and we at Stimulus wanted to give you a highlight of some of our favourite features so far! This is a two-part blog, so make sure you don't miss the next one.
If you'd also like to see some of these features in action, watch our short Spring '21 video.
Lightning Template Changes
Have you ever been really confused that even though Lightning Email Templates were introduced, we could not use them in automations, and instead you would have to go and use Classic Email Templates…even though you were in Lightning? Yes? Well do not worry, you're not the only one.
Luckily though, the confusion is over! The Spring '21 Release brings the ability to use your Lightning Email Templates in Automations. Any of your Lightning Templates that you have made will now be available for you to use in your Salesforce Automations such as, Flows, Process Builder, Approval Processes and more. As always though, make sure your templates are in the correct folders so you can find them when you need!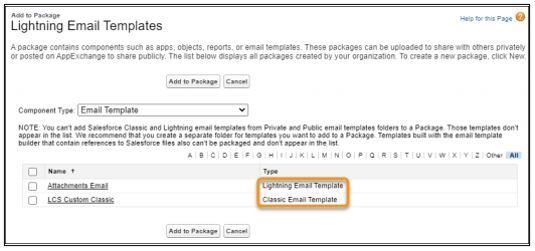 Now you can use Lightning Email Templates in automations, wouldn't it also be very helpful if you were able to transfer those templates from a sandbox, where you have been testing your automations, to your production org?
Well now you can do that too! With the Spring '21 Release you are now able to add your Lightning Email Templates to both Packages and Change Sets. Once you have finished configuring your changes in your Sandbox you can simply add your Lightning Email Templates in, and deploy them to your org! Simple!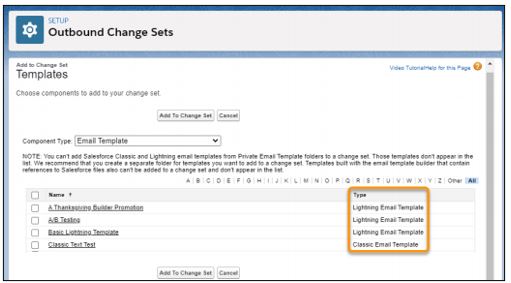 Meeting Digest
With the business world in its current climate, more and more workers are expected to be working and conducting their meetings from home. With Salesforce's latest Spring '21 update, comes a tool designed to help your users prepare for those meetings, without the need to leave Salesforce or spend time searching for meeting critical information.
We encourage our users to add as much information into Salesforce as possible, and strive to create a "single point of truth" where all information about our Accounts, Contacts, Opportunities can be found; but when it comes to preparing for a meeting – your users still want to know the key information about who is on the call? what opportunity is it in relation to? what activities have led to this point? and what is there to come in the future? Which subsequently means our users are having to collate this information somewhere and that takes up time that could otherwise be better invested.
Well, the new Salesforce Meetings feature, Meeting Digest is here to remove that exact conundrum:
"The Meeting Digest, part of Salesforce Meetings, gives your sales reps a single page that they can use to gather and share information before a meeting starts. They get insights about who's attending a meeting, reminders about meeting invitation responses and details, plus related record activity."
And, as you can see from the below, it's exactly what they've achieved.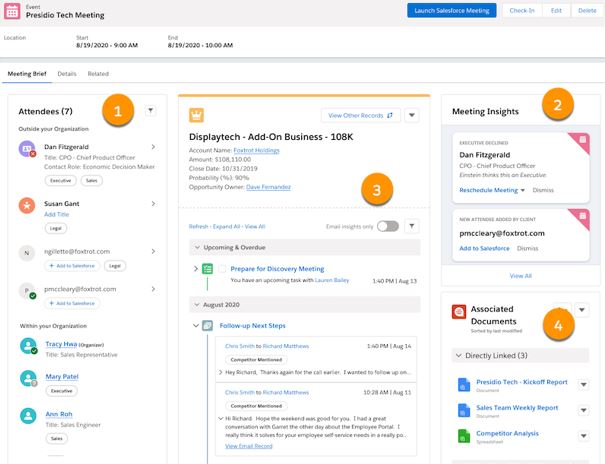 Prior to a meeting, users can how quickly see who is attending, both internally and externally (1), gather Meeting Insights (if using Einstein Capture) about declined invitations or missing event details (2), have quick access to both the record in question and the activities linked to it (3), and if Salesforce Anywhere (the newly rebranded Quip) is enabled, also have access to associated documents for reference or note taking (4).
I think it is fair to say that work in the current climate can sometimes feel disjointed, and a little bit confusing given the ever-changing landscape of office/remote working – what this feature allows our users though, is a complete overview of a meeting prior to it taking place, which in turn provides clarity, confidence, and a sense of control.
Meeting Studio
As we do everything online now, we all know how frustrating and difficult it can be to manage your online calls and presentations. Do not panic though, with Meeting Studio you can now show your camera view and your presentation in the same window! You can have key information from your Meeting Digest on hand whilst you are presenting and your participants even get a place to take notes and collaborate with their team!
No matter what platform you use to deliver your meetings, Meeting Studio can be used to provide a unique experience within your existing video conferencing applications to give Sales Reps easier presentation experience. To be able to have access to Meeting Studio make sure you have the Salesforce Meetings permission set assigned. To enable Meeting Studio, go to Meetings and Settings in Setup, it can then be launched from the Meeting Digest tab on an Event Record.
Take a look at part 2 of our Salesforce Spring '21 release blog series.