Would it be another release if we don't mention Flows? It feels like Flows have been getting a lot of love with each recent update to Salesforce, and Summer '20 is no exception.
Flows are receiving something of a design change with the summer release which will make them more approachable than ever.
If you weren't paying too much attention to the release notes for Spring '20, you may have missed that flows were changed to allow for them to be auto-launched based on record updates. You might have missed this because this setting was hidden inside the Start button inside the flow.
Here's where it is now: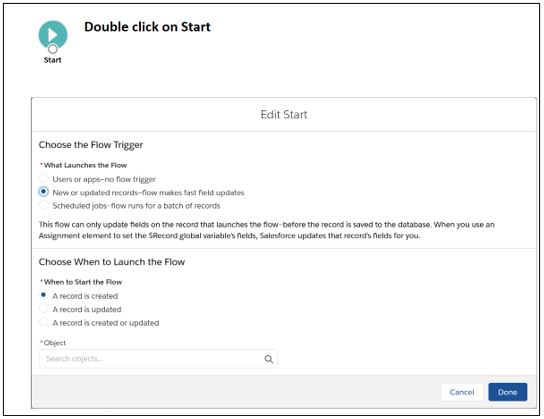 If you were used to building flows in the old way, you could be forgiven for missing this. (I certainly did!) So, what's changing? With Summer '20, the first screen you'll see - on creating your flow – is a prompt to select whether you want to create a record update Flow. This is how it will look once you've built your flow: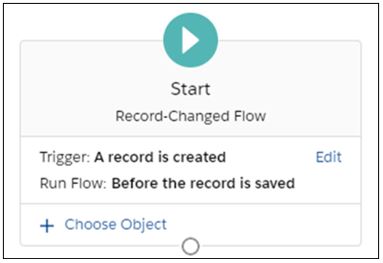 This isn't a new feature – but it's a fantastic quality of life change that will help us all leverage the new functionality the Flow builder has received.
Einstein Search
We all know that the AI offering from Salesforce, Einstein, is constantly bringing us exciting features and this release is no exception. This time we are focusing in on Einstein Search.
This is coming for free in Unlimited, Enterprise, and Performance Edition organisations and includes natural language processing to create some advanced searches quickly and easily. An example is someone searching for "My Opportunities last month" and the natural language processing creates a set of search filters based on that request.
This allows your users to easily be able to create some quite advanced sets of search filters that would normally at least take them time to understand how to use, and more likely require training to be able to create. It is only supported on a few objects for now but the power here could grow in future releases, however, the supported objects include some of the most important in my opinion; Opportunities and Cases.

Things like this always interest us because, even if not completely perfect now, it gives us a glimpse of where things could be heading and the type of features that could be considered normal over the next few years.
Introducing Data Prep to Einstein Analytics
Einstein Analytics has yet another game changing update for us this summer by taking the best of existing functionality and delivering a shiny new tool: Data Prep.
Previously, Einstein Analytics admins or data integration specialists could use the dataflow editor or create a recipe to prepare Einstein Analytics datasets. Salesforce is now introducing a third option, Data Prep.
Data Prep provides an alternative way to prepare recipes. It has a point-and-click visual interface that will help us understand at a glance what is being done with the data. For some, this interface will be quite familiar, since it closely resembles what we see in Process Builder or Flow Builder.
Data Prep is combining the best of both worlds when it comes to the dataflow editor and recipes. The dataflow editor allows for great control of data preparation; however, it does not have any data preview capability. Recipe, as it used to be, would show us such a preview, but did not offer as good an overview of the changes being applied in sequence to prepare our datasets. Now, building recipes with new Data Prep has both of these benefits, we get an intuitive diagram and each node is selectable to preview data values.
If you'd prefer to check out a video highlighting our favourite features, here it is!
Why not read our Edition 1 of the Salesforce Summer '20 release roundup? Or if you've already seen it, here's Edition 3.