In our latest blog post, we take a look at some of the latest Salesforce Lab components that might be worth a look.
What is Salesforce Labs?
Salesforce Labs is a programme that lets Salesforce.com engineers, professional services staff and other employees share AppExchange apps they have created with the customer community. Inspired by employees' work with customers of all sizes and industries, these apps range from simple utilities to entire vertical solutions. Salesforce Labs apps are free but are not supported at all by Salesforce and many are not regularly updated. What they do give you are some very interesting extra capabilities on the platform which you can often use to easily deliver something that would have taken you a long time to build or develop yourself.
I am going to periodically take a look at a few of my favourite or the newest Salesforce Labs components that might be worth a look.
This component allows you to create a tiled UI which can be placed on Lightning pages. Each tile can link to anything within Salesforce, or elsewhere, by a URL that you configure in the new Tile Items custom object that is installed with the package. You create records in the Tile Items object which can then be displayed as clickable graphic tiles on the tile component wherever you put it within Salesforce with whichever tile logos you specify.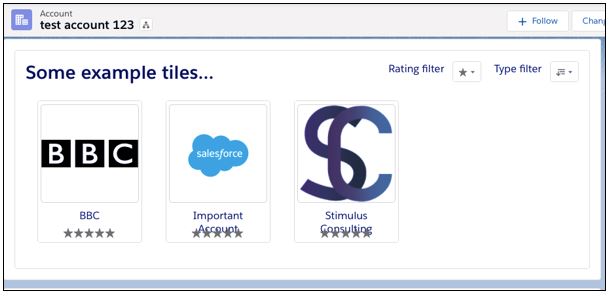 Here I have added it to my Account Lighting record page with links to a few external websites and a link to another Account record as an example. The links to external websites are simply the URL to whatever web page I want to view and a link to a suitable logo. The Account record link is created with a relative link (in this case /0017E00001BdIHIQA3) to the Account record Id as the URL so that wherever I am in Salesforce it will jump me to that specific record. This makes a simple user interface for moving between webpages and Salesforce records or even linking to other web based systems you may use in your workflow. Think about putting together links to Products on Cases for example to make things more visual and provide easy access to Product details.
Since the tiles themselves are configured by records in the Tile Items object, you can create, update or delete them automatically with a flow to make the tiles update themselves, potentially showing top performers from your sales team or the most recent Cases for example. It is just another simple way to enhance the user interface for your teams.
This is a great component for the tracking of targets in a compact and easy to understand way. This Lightning component can be added to pages and all the normal capabilities of Lightning pages such as conditional visibility apply.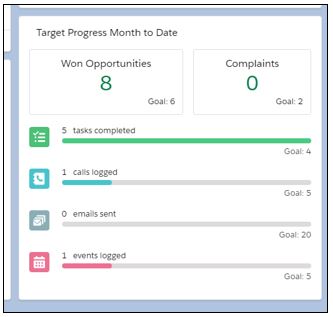 You can set a goal in either of the top two sections (in my example here 'Won Opportunities" and "Complaints") to be flipped so that the goal is either treated as the maximum acceptable number or as opposed to a target to achieve. In my example above I have flipped the goal for "Complaints" so that if I get 2 or more complaints picked up by the report the count will turn red as I have exceeded the amount allowed. It is currently green as no complaints have been found by the report. "Won Opportunities" has a goal of 6 and the report has returned 8 so this has also turned from red to green as the target has been exceeded.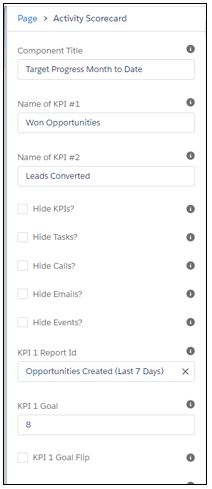 It comes with a report for each section on the component that defines which records are counted within each section. These are standard Salesforce reports so are easy to customise to count records in whatever way you want with your own filters and criteria. In the configuration for the component, each individual section can be turned off if you do not want to display it and the targets or goals can be set to whatever you define them as.
Think about how you could use this to configure multiple components on a homepage to show different teams or departments progress toward their targets. It is based on standard reports which means that filters such as My Opportunities work well so that when used, the component automatically shows people just their own data if the underlying report is configured that way.
These are just a couple of my current favourites. Why not dive into the AppExchange to see what you like the look of. Here is a good place to start.