If you haven't already heard of it….let's introduce you to Salesforce's business to business commerce cloud. The Salesforce B2B Commerce Cloud was originally a managed package app created by CloudCraze and acquired by Salesforce in 2018.
The managed package utilised the functionality of the Community Cloud along with installed Custom Objects (frequently replicating that provided by Standard Objects) and Visualforce Pages. Whilst much configuration could be achieved with clicks, more complex customisations required Admins to have a fairly good understanding of javascript, Visualforce and on occasion, Apex.
The user interface was the old Classic interface which, by today's standards, is not pretty and is somewhat limited in its functionality. Additionally, performance could sometimes be slow and clunky.
Herald the era of B2B Commerce Lightning!!
The newly developed B2B Commerce Cloud in Lightning is a significant re-design utilising the newly branded Digital Experience Cloud, only Standard Objects and of course, Lightning Components. B2B Commerce is now native functionality!
The difference is actually quite startling. Using the standard Product and Pricebook objects makes managing your product catalogues so much simpler. Fairly complex Storefronts can be built using the Experience Builder with drag & drop functionality and 'clickable' control over graphics, fonts, images and the like; so brand away!! No more faffing around with Page Labels or Menu Items. A number of Commerce and Content Lightning components are provided, making it very quick and easy to get up and running and of course, the library of Lightning Components can be augmented from the AppExchange or with your own custom components.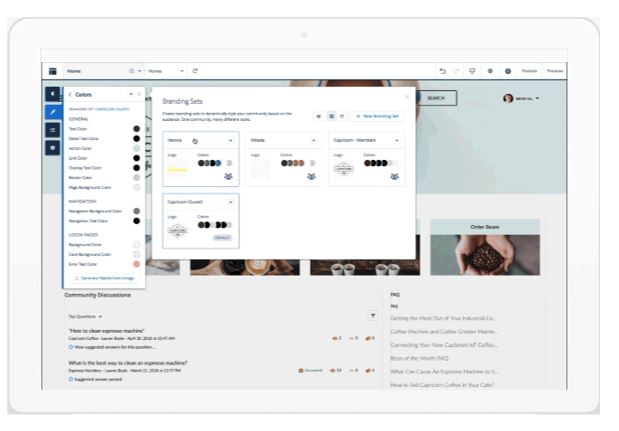 But the biggest difference? Performance. Lightning Components with client-side business logic processing and event handling means that your site loads quicker, has more functionality and looks slick.
There are still a few 'bells & whistles' missing in this initial release but most will be on the roadmap for General Availability, so all in all, a win for Salesforce.
If you want to know more….contact us!