In this blog, we talk about Salesforce Pardot certifications - what you need to know, and how to prepare.

Following on from our blog on Marketing Cloud certifications, let's talk about Pardot.
Pardot is Salesforce's B2B Marketing platform. It allows you to automate your marketing activities and bring data together to maximise your selling potential.

There are only two certifications for Pardot – Pardot Specialist, and Pardot Consultant. The Pardot Specialist must be taken before the Consultant exam, as the Consultant exam builds on concepts covered in the Specialist Cert.
The Specialist Cert is for those who have spent time using Pardot to design and execute marketing campaigns, including aspects of the platform such as lead-based data management, email marketing and reporting. You can view the Exam Guide here, and the accompanying Trailmix to study (Prepare for your Pardot Specialist Certification), can be accessed via this link. As well as the Trailmix, Salesforce instructors can teach you about the platform on the 3-day PDX101 (Drive Sales with the Lightning Pardot App).
The final certification is the Pardot Consultant Certification. As with the Marketing Cloud Consultant exam, this cert has been designed with the consultant role in mind – those who discover what their customers are looking for and make that a reality on the platform. There are no designated instructor-led training courses or trailmixes that run alongside the exam, but with the Trailhead platform available to you, there are a number of badges which will help you along. In addition, the PDX101 will certainly introduce the concepts the exam covers. You can view the Exam Guide here.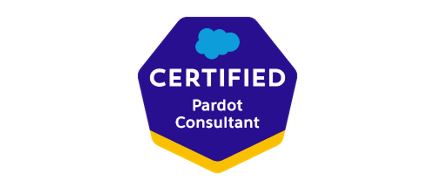 And there we have it! A comprehensive overview of where you can start or continue your marketing journey with the Salesforce platforms. You can always navigate to the offerings here to view exam guides, available training and book your exam. Need anything else? Feel free to reach out to us. Good luck!