Walkthroughs is one of Salesforce's newest features and already there are a whole host of new features to enhance them even further in the Spring '21 release.
For those of you who haven't heard of Walkthroughs before, they are part of In-App Guidance in Salesforce and allow you to guide your users through the Salesforce interface. You do need myTrailhead licenses to take advantage of Walkthroughs.
One of the biggest enhancements to Walkthroughs is that now you can create guidance for the entire process of creating, editing, and cloning records and continue the walkthrough into the detail page. For example, you could guide a user from the Opportunity object, clicking New will open the dialog page and continue the Walkthrough. Once they click Save, the Walkthrough can continue on the newly created record.
Guide users through creating New Opportunities: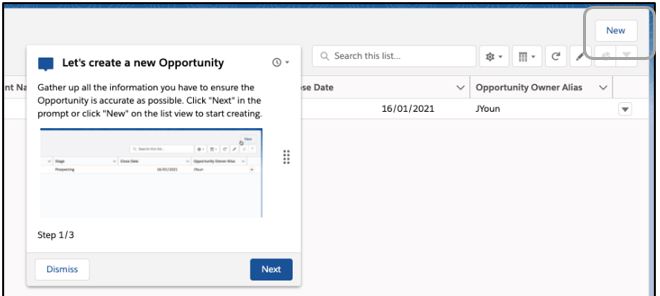 Attach Walkthrough steps to dialog pages. The Walkthrough will not carry on until the user has populated the information and clicks Save: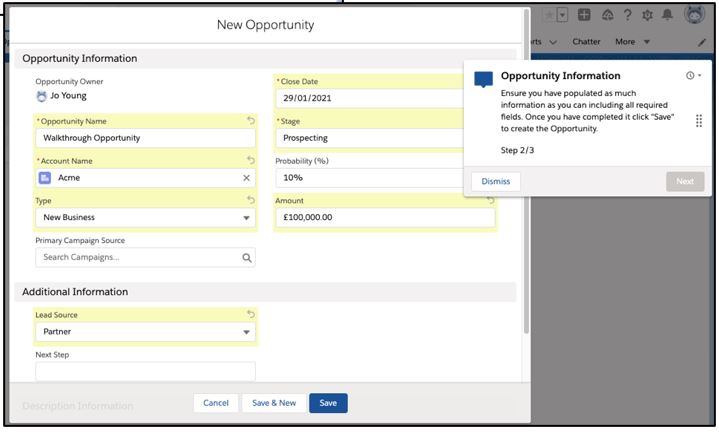 In the Spring 21' release you can now include images in Floating prompts to bring your Walkthroughs to life. You can add a .jpg, .jpeg, .png, or even a .gif file. Gifs allow you to animate your steps to enhance the guidance further. You can also do more with rich text such as underlining and adding links. You can embed links directly into the docked prompts to external documentation or even myTrailhead content.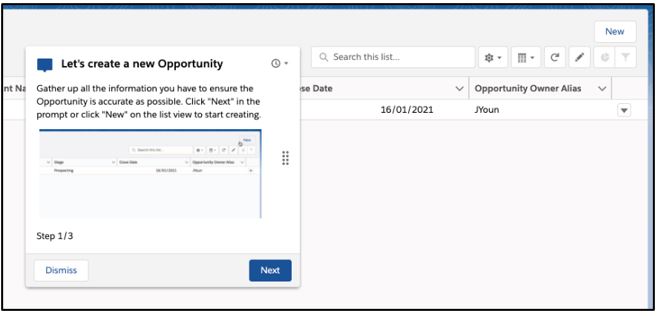 Previously, when your users started a walkthrough, they either had to complete it from start to finish or dismiss the Walkthrough and do it again at a later date. Now your users have the option to snooze a Walkthrough for 20 minutes, 1 hour, 3 hours, Tomorrow or Next Week. This gives them the flexibility to choose when to complete the Walkthrough.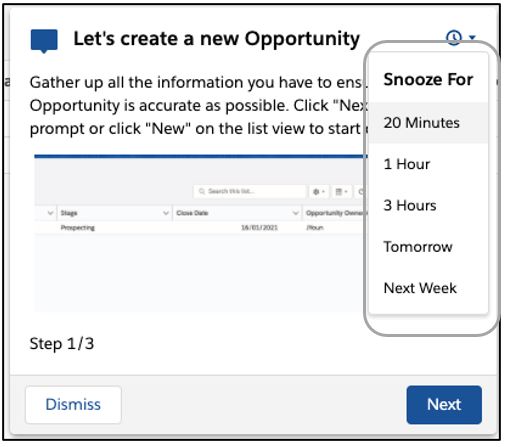 In-App Guidance is fast becoming one of the great ways to drive user adoption in your Salesforce instance. Contact us to learn how we can help.
For more hints, tips and guidance, take a look at our Salesforce tutorial videos.