Global Search is a key tool in Salesforce, but did you know it's not just plain searching?
Whether you want to find out if one of your clients already exists in Salesforce, locate a post that you earlier spotted in chatter, or if you are trying to find your team's latest strategic deal; the Salesforce Global Search is the place to go.
The Global Search in Salesforce is a great and intelligent tool. It searches in all types of records including articles, documents, products, solutions, custom objects, Chatter feeds, and much more! But how is it smart?
Global Search gives you results by keeping record of which objects you use, how frequently you use them and arranges the search results based on that information. This means that the records you most frequently search on and view are shown at the top of the list.
Here are a few tips and tricks for using the Global Search:
Basic Knowledge:
Your search term must have two or more characters. For example, a search for "b" won't return any results.
Search is not case-sensitive. For example, a search for "california" finds the same items as a search for "California".
Find phone numbers by entering part or all of a number. For example, to find (415) 999-3434, enter 4159993434, 999, or 3434. To search for the last seven digits, you must enter the punctuation as "999-3434".
Tricks
You can search for exact phrases by putting quotation marks around multiple keywords. For example: "thank you letter" finds items with all three words thank you letter in it, written as a phrase.
Use wildcards to search for partially matching terms:

* (asterisks) – Asterisks match one or more characters at the middle or end (not the beginning) of your search term. For example, a search for fred* finds items that start with variations on the term fred, such as, frederick.

? (question marks) – Question marks match only one character in the middle or end (not the beginning) of your search term. For example, a search for jo?n finds items with the term john or joan but not jon or johan.

Search Filters:
If filters have been enabled by your administrator, you should find that you can filter the search results for a particular object. This will allow you to narrow your search results down further and find the correct record more easily. To use filters you need to click on the Show Filters link and enter additional search criteria as necessary. The filter fields that are available to you are determined by your administrator.
Customise Filters:
Administrators need to set up filters for all users. This can be done by following these steps:
1. On the Search Results page, in an object's search results list, click Customize... > Filters for All Users. Alternatively, from Setup, click Customize > Object Name > Search Layouts.
2. Click Edit next to Search Filter Fields.

3. To choose the fields that will be available to filter on, use Add and Remove.
4. To reorder these fields, use Up and Down.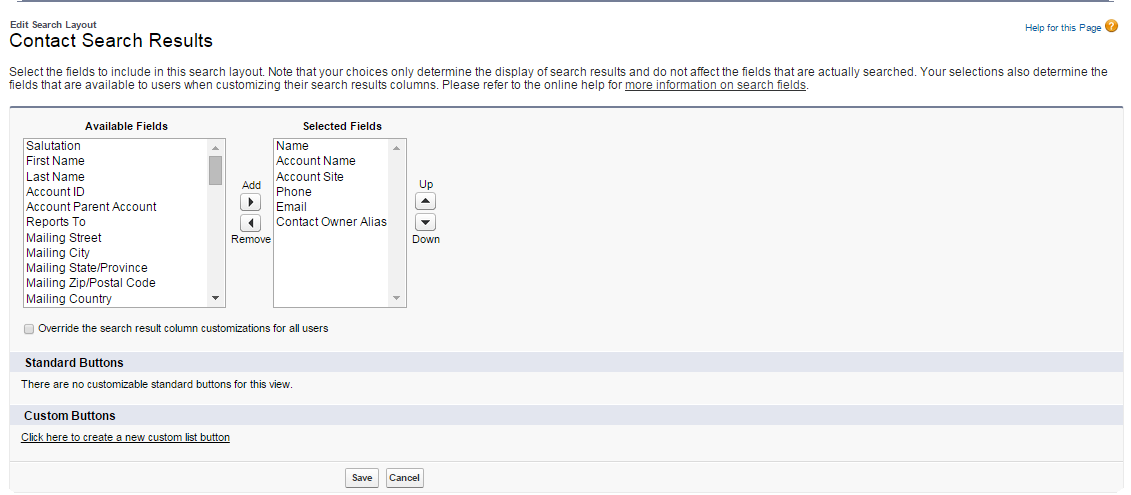 5. Click Save.
Search Results Columns
As a user, you are in control of which columns are displayed in the search results and in which order.
In the search results, click My Columns to choose which fields appear and in what order.
Click column headings to sort out the results in ascending or descending order.
Pinning objects in your search results
If you search for certain objects more often, you can pin them to the top of the results list so that you don't have to scroll down to get to the object you want to see.
To do this, type in your search and look in the objects in the side bar. Hover over the object you wish to pin and you will see a pin to the right of that object name. Click on the pin and the object will automatically be placed at the top of the list.