There is nothing worse than dirty data. We all get frustrated when we see duplicate Accounts and Contacts, and it makes it just that little bit harder to do our jobs. Which record do we use? What do we do with the other records?
However, if your friendly system administrator has set up duplicate rules and added your duplicate Lightning component to your page layout…..then you can merge your Contacts yourself.
So, where to start? Well, here we are having just spoken to John. John works for Platinum Software, one of our existing customers, but we need to add John to Salesforce and put all the details of our call there.
Of course, we search in Salesforce first, and we find that there is already a John Smith in Salesforce AND there looks to be two of them!

When we click on View Duplicates, we now get the option to merge our Contacts if they are truly the same person. Select the Contacts to merge.

Next, you get to choose which of the Contacts remains in Salesforce (the master), and which fields should be merged into it. You can merge up to three Contacts at a time.

Merging Contacts removes the duplicates from Salesforce, but they will be in your recycle bin if you feel you have made a terrible mistake!
One more thing, when you create a brand new Contact (and perhaps have forgotten to search first), our duplicate rule will warn us when we are creating a duplicate Contact. Now at this point, you still haven't saved your new Contact record. You could stop now, and look at the existing Contact (click View Duplicates), or continue to Save and take a look after.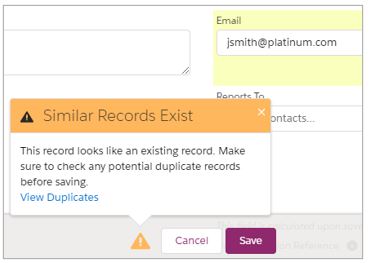 If you haven't already set up duplicate rules and the Duplicate Lightning component, what are you waiting for?
For more hints, tips and guidance on all things Salesforce, take a look at our Salesforce video tutorials.