In our next blog, we talk about the Timeline app that is avaialble in the Appexchange by Salesforce Labs. What is it, and how can it be used? Here, we explain.
Here's another entry in my ongoing series about the apps available in the AppExchange by Salesforce Labs. In this blog I'm going to take a look at the timeline component available here Timeline - Salesforce Labs - AppExchange.
First of all, lets just clarify again that this is a Salesforce Labs component, so while it is created by Salesforce employees, it isn't supported by Salesforce or fully tested. Please do bear that in mind if you decide to use anything from Labs for something business critical.
Ok, so what is a timeline? In this context, a timeline in Salesforce arranges data in date order in an easy to consume format with easy links to get more information or click through into the full view of the record. We should all have seen this, the standard Salesforce activities component does this for us showing tasks and emails etc. associated with our records. We can expand entries in the timeline to see more, and they are arranged in a easy to understand list broken up into the month and year that the activity happened. This standard component works really well, but it has limitations. Admins and developers have basically no control over what appears on the timeline.
This is where the Labs timeline component comes in. It is fully configurable, we can choose exactly what we want to display and what we don't. Lets say for example that we like the existing activities timeline so much that we want a similar view for other things that have happened on account records, such as cases logged, opportunities raised, contacts added etc. All this information is available in the related lists we may already have, but a timeline will bring it all together in one place and make it easy to understand the order of things.
After installing the component, we can follow the instructions on the AppExchange listing to get it set up so I won't go into the full detail here. I will point out though that when setting up the things you want to show in your timeline you have incredible control using the flow that appears, and there are even more options available if you edit the config you have created in the flow. Once you do it, that will make sense!
Above, I have put together a quick example showing the history of records related to this account. I have left off activities so they sit on their standard list, but I have included contacts, cases and opportunities. Each section can be expanded with up to 5 fields that give the details, and as always, clicking the blue links will take me to the record for edits and full detail which you can see below.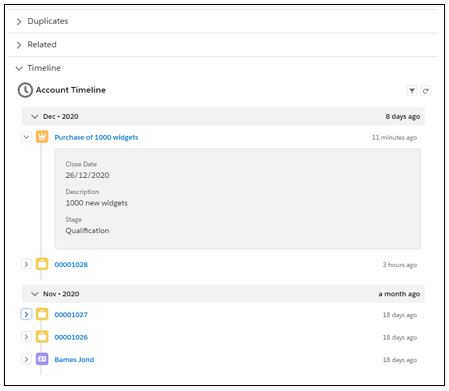 On its own, this is great but we've got some feedback in from the users that allows us to use some of the more interesting features that this Labs app gives us. Firstly, on cases they don't find the number very useful, they'd like to see some case detail without expanding and they'd also like cases sorted by the last time they were modified. They also hate the standard icon for contacts so they'd like something more fun for that. For opportunities, they'd like the amount in the detail view. So here we go: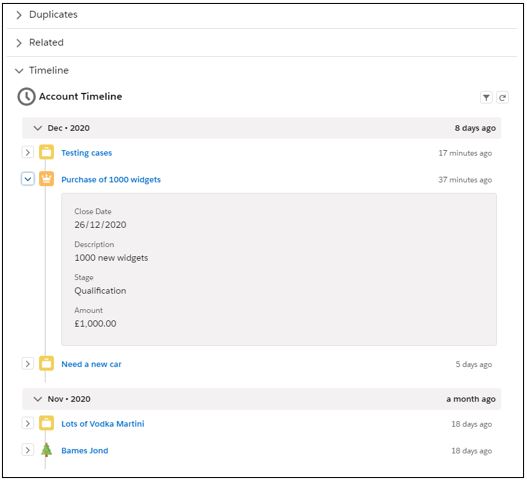 Now we have a custom festive icon for contacts, we used the case subject as the header for cases, more data on the opportunity detail and whilst everything else is still ordered by created date, cases are sorted on last modified. These changes have taken less than 5 minutes to make and I hope you can see just how much value this could bring to your end users.
There is a lot more that could be done here, the app has options to create apex classes and use those to decide which records to display so someone with the skills could get almost anything onto this timeline.
I hope this has given some food for thought!