Developing in Salesforce Marketing Cloud can be a headache. Certainly so, when it comes to things like working in a Business Unit that is treated like a Sandbox, to then deploy it into your live Business Unit. This is because things like Journeys and Automation cannot be easily shared across Business Units. That is, until the wonderful people at Salesforce Labs created Deployment Studio
Deployment Studio allows you to create snapshots, these snapshots are files that contain a clone of our assets from Marketing Cloud. This allows you deploy this snapshot into another Business unit, or even another tenant of Marketing Cloud (provided it also has Deployment Studio). These Snapshots can contain Attribute Groups, Automations, Data Extensions or Journeys. Before Deployment Studio, any changes made in Sandbox Business Units would have to be created again manually into production. This is prone to error and other complications.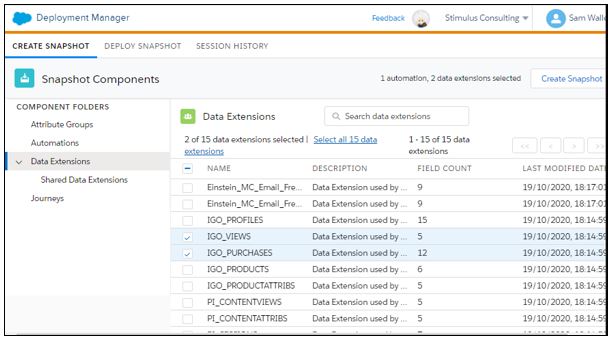 The snapshots are downloadable .json files which allows the flexibility in uploading it into another Marketing Cloud Accounts. We see a fantastic use case for snapshots. As a consultant, I like to create automations that populate Data Extensions from the data view tables, this is because the data view tables only hold it for 6 months and the Data Extension will retain it longer. The queues and automations are always going to be the same. So, when a customer wants the same functionality, I can simply deploy that. json into their Business Unit, from my own.
And it goes without saying, it's incredibly easy to use.