Let's take a look at the search and mobile features that will be available in the Spring '22 release.
Search Features
With the Spring '22 release, Salesforce are introducing some powerful new Search features which should make it much quicker and easier to find the records we're looking for.
Natural Language Search is the process of phrasing your search questions the same way that you would if you were talking to a person and whilst it's been around for a while in Salesforce, the Spring '22 release expands its scope to include Tasks; so now we can search for things like 'my tasks for the next 2 days
Currently in Pilot, but hopefully coming to General Availability soon is the ability to further refine our Natural Language Search results by the provision of filters at the top of the search results page. If you fancy trying it out you can enable the Pilot feature in your org through Setup > Einstein Search > Natural Language Search Filters
Einstein Search for Knowledge Articles Written in Multiple Languages is also in Pilot and can be enabled in your org in the same place
Sometimes search results return several similarly named records and it can be tricky to identify the specific one you want. For objects like Users & Groups (and others that support Profile images) the instant results and record previews now show the relevant Profile image by the record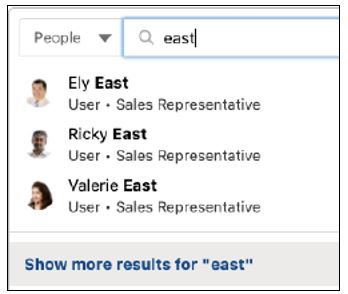 Finally, more objects have been added to search including many in the following clouds:
Media Cloud
Net Zero Cloud
Insurance Cloud
Health Cloud
Commerce Cloud
Marketing Cloud – Customer Data Platform
Manufacturing Cloud
Happy hunting!
Pinned Lists Cards on Mobile
Most of us expect a great mobile experience from our apps these days but that doesn't mean we shouldn't notice great new features that Salesforce include in their releases. This one is all about helping us be more efficient when we are out and about and need to access Salesforce on our phone or tablet.
Ever accessed the mobile app and spent time, multiple clicks, and a dash of added scrolling only to find you have missed one of your frequently used list views during the scroll. Time to tidy up the amount of List Views you have? Maybe not – you now have the ability to pin 'Cards' to your Mobile Home screen for easy access and banish that scrolling for good!
It is also super easy to setup. On your mobile or tablet, navigate to 'Mobile Home', tap 'Edit' in the top right corner, select 'Add Card' and then 'Pinned List'.
Here's a screenshot of what it looks like in one of our Trailhead Playgrounds, where I have pinned a custom list view for easy access: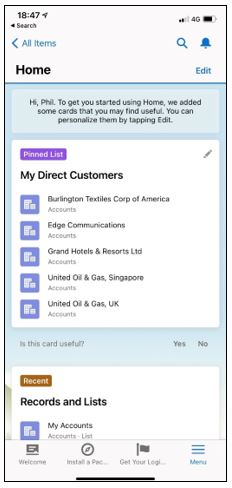 Contact us to learn more!