When Salesforce initially rolled out Dynamic Forms, they were only available for Custom Objects. In a subsequent release the functionality was extended to include the Account, Contact & Opportunity standard objects.
And this release further extends Dynamic Form functionality to the Lead and Case objects. So, when accessing a Lead or Case Lightning Page in the Lightning App Builder, we're now given the option to upgrade the page to a Dynamic Form. This allows us to take advantage of being able to manipulate the placement of fields & sections directly in the App Builder without having to use Page Layouts. We can also use Visibility Rules to dynamically hide/show fields based on criteria to ensure that we're only showing users the fields they need, when they need them; thus streamlining our pages and keeping them clutter free.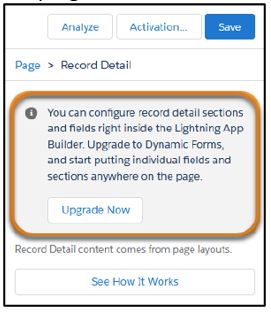 Dynamic Actions for Standard Objects
Dynamic Actions give us the flexibility and control to determine which Actions appear in the highlights panel on our record pages. We assign the page actions in the Lightning App Builder and then apply filters to specify when and where those actions should appear. To use this functionality, simply select the Highlights Panel component on your page and click on the button to upgrade to Dynamic Actions. Then in the property pane, add your actions (1) and assign them visibility rules (2) based on record fields, device type and other filters (3).
The Spring '23 release now makes Dynamic Actions available in Desktop for ALL standard objects. Previously they were only available in desktop for Accounts, Contacts, Cases, Leads & Opportunities.
Add Save Options to Accounts, Cases & Leads in the Lightning App Builder
With this release we're now given the ability to add Save Options to our Account, Case & Lead record pages in the Lightning App Builder when creating, editing or cloning Cases & Leads or when editing Accounts. Save Options allow us to display object specific checkboxes like the 'Assign using active assignment rule' checkbox directly in the Lightning App Builder, something that was previously only available in Page Layouts. Some setup is required first; for each object you'll need to first specify which Save Options should be available and whether they should be checked by default. But then when a field section is added to the Lightning Page, Salesforce will show the Save Option checkboxes.

See More Records in Dynamic Related Lists
When using the Dynamic Related List – Single component on a Lightning Page, Admins are able to filter the list directly in the Lightning App Builder. Dynamic Related Lists now include a 'View All' link enabling users to see the full list of related records. In this full list, Users are now able to see the filters that their Admin has applied to the list as well as create their own Quick Filters to further restrict the list. Prior to this enhancement, Users were only able to see a maximum of 30 related records in the Dynamic Related List.
Pin Important Content on the Right Side of Record Pages
The Spring '23 release introduces a new 'Pinned Right Sidebar (3 regions)' lightning page template which allows us to show important information such as customer details on the right-hand-side of the page. Thus, users can access useful information on a single page without have to switch between tabs & subtabs. Simply create your page using the new template and add the relevant components to the pinned region.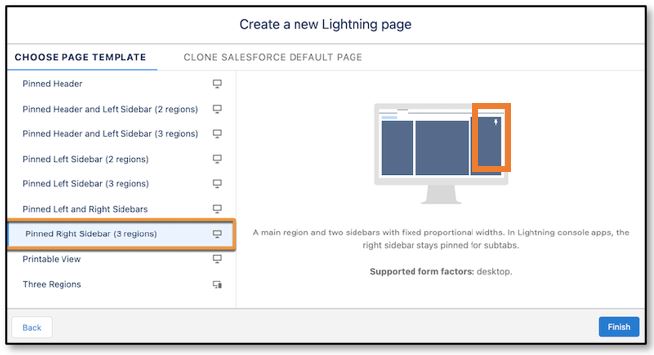 Contact us for all of your Salesforce needs.
Why not take a look at our overview blog on the new updates and features that will be introduced in the Salesforce Spring 2023 release.