Have you heard of the Salesforce Trail Tracker? This app from the AppExchange allows you to not only tailor the Trailhead training programmes for your team, but it also gives you the opportunity to analyse and track their progress.
If you have Salesforce developers or administrators in your business, it's highly likely they've come across Salesforce Trailhead, a set of self-paced, interactive, online tutorials which guide them through the key features of Salesforce.
Each user has their own Trailhead profile which gives them complete control over which trails and modules they would like to tackle. But what if you are a manager, team leader or department head and would like to personalise and tailor your training programmes? For example, you may wish to assign specific badges for your team to complete and then have a way of analysing the progress of each of those users. Trail Tracker allows you to do exactly this and includes some excellent out-of-the-box reports and dashboards to facilitate that analysis.
Once you've installed the app from the AppExchange there are a few steps needed to complete the configuration but these are quite straightforward if you know your way around Salesforce setup.
Setting up an Integration User
The first step would be to create an integration user with minimal permissions. This is used to sync the data between Trailhead and Salesforce, so best practice is to create a login solely for integration purposes rather than an actual user's login. This will ensure there is no interruption to the data sync should that user leave the business. However, if you don't have enough licenses available to create an integration user, it's still perfectly possible to set this up with a user's login.
The integration user doesn't require many permissions beyond logging in to Salesforce, so it is recommended to clone the Standard User profile and edit it to ensure it only provides access to the Trailhead objects installed with the managed package. One other permission which is essential to the integration user is API Enabled. If this is not ticked in the profile, no data will be synced between Trailhead and Salesforce.
Finally, the integration user needs to be assigned the Trailhead Admin permission set to grant access to Trailhead objects like user badges. If you would like users to also see Trailhead data from within Salesforce, they too will need to have this permission set assigned to their user record.
Configuring Trail Tracker
So, you've installed the app and created an integration user. Now you just need to get them working together!
Launch the Trail Tracker app from within the App Launcher in Salesforce and head to the Trailhead Setup page.

This takes you to the configuration page for authenticating the integration you created previously.

Whilst you're here, you also set when you would like to synchronise Trailhead data and the level of error logging you require. Extremely helpful for troubleshooting!

And that's pretty much it. The data synchronises daily at the time you set, giving you an instant overview of Trailhead progress made by your users, directly from the Trail Tracker app within Salesforce.

For more detailed analysis, explore the selection of in-built reports in the Trailhead folder.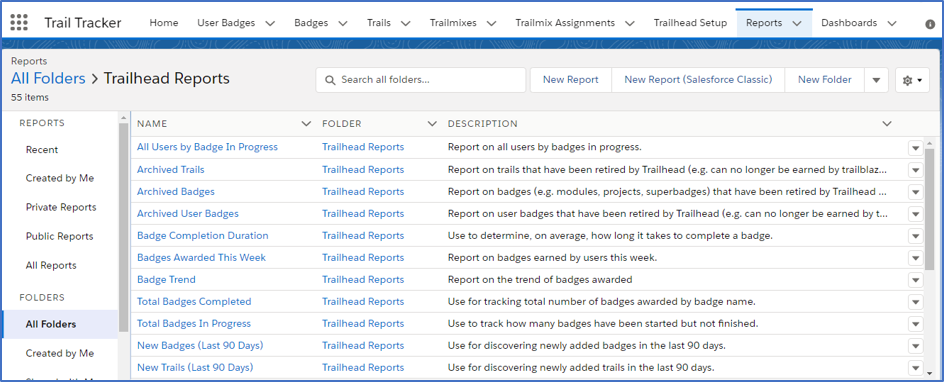 Or for a more visual representation check out the selection of dashboards.

If you're interested in seeing what Trail Tracker can do and would like help with the installation or setup, please don't hesitate to contact us.