Get to know more about our great team by keeping an eye out for our Stimulus Staff Spotlight. This week it's our Salesforce Implementation Manager, James Cannon.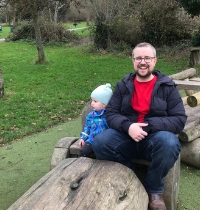 10 years ago, what did you think you would be doing now?
10 years ago, I was working in outreach; working with young people to help them achieve their potential in education. I spent about half of each year travelling around rural and coastal communities in the South West, running workshops and activities with local schools and colleges. I had never heard of Salesforce and had turned down a consultancy job to take the outreach one. I didn't have any long-term plans, but I think the 10-years-younger-me would not have seen this career path coming!
What quote do you live your life by?
Rather than an inspirational historic figure or famous person, my quote is from my friend Anne who teaches secondary science. Anne often gets asked by parents and pupils what her one piece of advice for life is and I think it's a great one to live by: 'Work hard and be kind.' Hard to go wrong with that approach!
What's the one thing you couldn't live without?
There are too many ways to answer this question, so take your pick from the below options:
The technically true, but irritating - air, water, food etc.
The true, but a bit mushy for work - my family, who my world revolves around.
The not true, and cringey - why Salesforce of course!
What do you like to do in your spare time?
I have a newborn and a two year old so I am not sure what this 'spare time' you speak of is? When I catch 20 minutes to myself, I like to play music (anything fretted - guitar, mandolin, ukulele) or video games. The Nintendo Switch is the perfect parents' console for its pick-up-and-playability and I recently got my two-year-old playing Crash Bandicoot. That probably shouldn't have felt like a proud moment, but it really did. I give it six months before she's better than me and I have to pretend not to be in a sulk about that.
What are you listening to/reading/watching at the moment?
I spend a lot of time in the car, so I listen to a lot of podcasts. My current favourites are the 'British History Podcast' (exactly what it says on the tin), 'Radiolab' (science is cool) and 'Alice Isn't Dead' (a horror story). I also read a lot, books and comics, but I mostly read 'Room On The Broom' repeatedly to my children!
What's your previous working experience?
I spent 10 years working in universities before joining Stimulus. I worked for the University of Cambridge, The Royal Veterinary College and Kingston University in that time. I worked in outreach and science communication across those roles - working with young people at risk of ending up not in employment, education, or training (NEET) and engaging the public in current scientific research, either just for interest, or as part of public health campaigns. It was when I needed a platform to manage the administrative processes of my team at Kingston that Salesforce came into my life. Once I'd started learning the platform I was hooked and got involved in helping small nonprofits set up their Salesforce in my spare time. When I reached a point where I enjoyed doing that more than my day job, I picked up the phone to Phil, here at Stimulus and the rest, as they say...
What's your favourite thing about life at Stimulus?
I think you'd probably get this answer from Salesforce Consultants everywhere, but it's the variety. I thrive on learning and solving problems and I'm constantly kept on my toes here. Every client brings something new, whether it's a complex process to scope or a weird platform issue that I've never come across before, and the Salesforce platform itself is constantly changing and introducing new functionality. I won't say there's never a dull moment as every job has them, but here the dull moments are a welcome time to catch up and process everything rather than being boring.
What are you excited about during the next year at Stimulus?
There's lots to be excited about! It's been fantastic to see how our first graduate intake has gotten along and I'm looking forward to working with them more on my projects. I have a few projects coming up that will be really interesting and satisfying and, of course, plenty of walks with Dante, the office dog!