For our next Stimulus Staff Spotlight, we get our Director Phil to open up on life at Stimulus, what he couldn't live without and what he used to get up to before he joined our team.
1. 10 years ago, what did you think you would be doing now?
Running a business! 10 years ago, Stimulus was a vehicle for Jo and I to do our own activities in the contracting and consulting arenas. I didn't for one minute think we would have such a large (and good) team as we do now.
2. What quote do you live your life by?
'Most stories wins'. It's basically a short way of experiencing everything in life that you can and enjoying the journey as much as the destination. Yes, I know that is cliché after cliché but you asked the question!
3. What's the one thing you couldn't live without?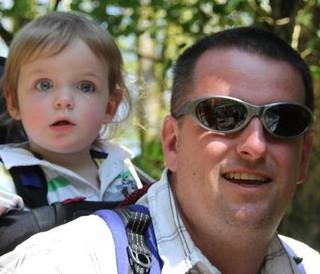 Okay, so the official answer is my family of course. Excluding those guys (who are obviously awesome), it would probably be my ipad - it carries so much for me - mobile, downloadable TV with Netflix and Amazon; all my books on the Kindle app; access to all my work tools and documents. I like to think that it allows me to work on flights and train journeys but with the House of Cards boxset being worked through at the moment, work rarely gets a look in (but don't tell the boss).
4. What do you like to do in your spare time?
Ha ha ha ha ha, spare time?! Three kids, a mad dog and our own business. Spare time, hoo hoo, good one!
5. What are you listening to/reading/watching at the moment?
Watching - House of Cards as mentioned above, plus I have the last series of Game of Thrones backed up on SkyQ ready for a binge watch.
Reading - I usually have two books on the go at the same time. On the Kindle, I am reading a science fiction space war novel. I can't quite bring myself to give up real books yet so I usually have one of those on the go as well and I am currently reading a Karen Slaughter crime thriller.
6. What's your previous working experience?
It's best described as varied! I worked for Business Link and Chambers of Commerce for a while which gave me a great insight into multiple industries; as well as so many different businesses and the way they operate. They have stood me in good stead to understand different businesses processes which are at the core of good Salesforce design.
Following on from that, I then spent 8 years running my own management consultancy, before taking a directorship role in a regeneration agency leading the inward investment function for Swindon, before returning to Stimulus to work with Jo to grow the Salesforce business.
7. What's your favourite thing about life at Stimulus?
Cheesy answer but it is the people. We have a great team who make me so proud with their work ethic, the focus they give on achieving the best for themselves on a personal level and to our clients. Move on now before I get emotional...
8. What are you excited about during the next year at Stimulus?
I am genuinely excited for what the future will bring. We started a new part of the business last year when we entered the consultancy market and we are hoping for good things there as we build the Salesforce implementation service in a sustainable way. We grew our headcount last October by 60% - seeing the new team integrate and the way they have hit the ground running has been fabulous. I would love to finish with another cheesy cliché about 2020 vision but I will leave it there and let you write your own.