For our next Staff Spotlight, we speak to team member Sam Reynolds. Turns out that when he was younger, he quite fancied David Attenborough's job. Sam is also quite athletic and is currently training for a half marathon!
1. 10 years ago, what did you think you would be doing now?
Being one of the youngest in the company 10 years ago I would have been 12, so I probably wanted to be a pilot or a football player. Safe to say that hasn't happened, but Stimulus is the next best thing. However, I always wanted to work on the film crew who travelled around filming wildlife documentaries. I wanted to be David Attenborough really!!
2. What quote do you live your life by?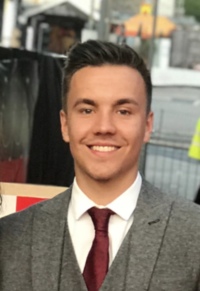 "Be the change you wish to see in the world" a bit of a deep quote, but it packs a punch. If you believe in something go ahead and do it, don't wait for someone else to.
3. What's the one thing you couldn't live without?
Food, I do love a good pizza. I would happily have pizza for breakfast, lunch and dinner 24/7 but apparently that's bad for you?
4. What do you like to do in your spare time?
I love sport, I can't seem to sit still for very long. I go to the gym most days; I play squash and football and I am currently training for a half marathon. However, golf takes up a lot of my time, no matter the weather I will be out on the course.
5. What are you listening to/reading/watching at the moment?
I listen to all sorts of music daily. I have currently started watching a series called 'Temple' which seems to be good so far.
6. What's your previous working experience?
I started working when I was 14 in your typical pub as a pot wash. I briefly worked in retail while I was at University and then straight into Stimulus when I graduated.
7. What's your favourite thing about life at Stimulus?
There is nothing not to like, the best thing has to be the people. Everyone gets on so well, we all have a good laugh and support each other. And of course, Dante the dog is a bonus!
8. What are you excited about during the next year at Stimulus?
Everyday I am learning something new, whether that be in the office, on client site or training Salesforce courses. I really enjoy working with our clients, especially scoping and configuring Salesforce for them, every time is different.