We love working with Recipes to prepare data because Data Prep offers simplicity and functionality. With this new release we get an upgrade in both areas. The new interface focusses on high level data changes which makes it easier to view the flow of data from beginning to end.
We now have a new generation of Data Prep that allows us to configure Recipes using Data Prep graphs. These Data Prep graphs are similar to Dataflow graphs in that each object is represented as a node, however, they are much easier to read as they don't show each individual transformation. Rather, it uses a singular Transforms Node as a graphical representation of transformations within the Recipe.
With this new interface it is clearer for users to see more about the data itself using these nodes: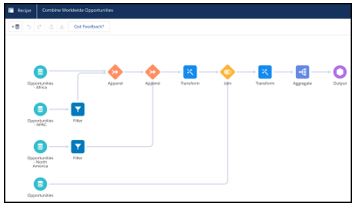 Data Source (Input)
Aggregate
Append
Filter
Join
Transforms (groups of transformations)
Output (where the data is written)
Additionally, you will be able to get a preview of raw data with each transformation. You can now also preview 5,000 rows of data instead of 100
This new version of Data Prep is packed with new features including:
The Flatten Transformation
JSON Upload and Download buttons
An improved formula editor with syntax highlighting and autocomplete
Big improvements on EA SQL such as using Case function
The ability to perform date calculations using Date Difference, Now and Add or Subtract Dates
If you have an Einstein Discovery license, I want to point out an exciting update regarding Data Prep, the new Einstein Predict transformation. This transformation will calculate and store predictions to your dataset including descriptions of top predictors and improvements.
When you run the Recipe, the Einstein Predict node will estimate and predict outcomes on a row-by-row basis allowing you to create datasets with integrated predictive and prescriptive intelligence. This will assist you in evaluating your predictions across a large set of data and in evaluating your models. Because your intelligence is already in the dataset it means you can aggregate this data into your dashboards.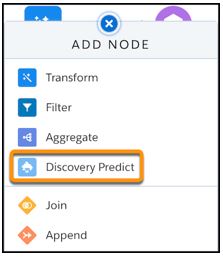 How To:
In Data Prep, ensure you have at least 1 input nodeClick the Add Node (+) button
Click Einstein Discovery
Select an Einstein Discovery prediction deployed in your org
Map your prediction fields to the fields in your recipe
Select Options
Specify top predictors and improvements in the dataset for quick and easy display on a dashboard