Work anniversaries bring with them a nice opportunity to not only celebrate friendships made and things accomplished, but also an opportunity to reflect on them - I say this as I come ever closer to my one-year anniversary working for Stimulus Consulting and working in the Salesforce ecosystem.
Before my career here, I held a varied CV to say the least, with experience across numerous industries. I was confident that I would eventually find a career that I enjoyed, was passionate about, and had the opportunity to continually develop in. Predominantly, all my education had been aimed at a career in teaching, but after graduating from university I decided there was more I wanted to do in life before potentially committing to it full time. Following my decision to take a hiatus from teaching, my jobs included working in retail, hospitality, film and television, and a year and a half in an IT sales company, to name but a couple.
It was whilst I was in my role as an Account Manager at the IT sales company, that I first came across Stimulus Consulting. We happened to cross paths at the Wiltshire Business Awards in 2019 and due to already knowing Sam Reynolds from our time at school together, we took the opportunity to have a catch up, and I also got to meet some of the Stimulus Team through Sam's introductions.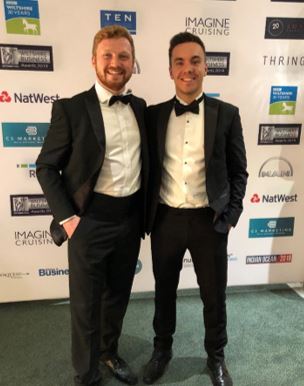 It wasn't until a year later that Stimulus Consulting started hiring again, and one application and a couple of interviews later – I found myself at Day 1 of my new career.
The first couple of months at Stimulus were all about getting Salesforce certified as quickly as possible, meaning I could then start helping others work through their Salesforce Administration training. In terms of my ramping to become an Instructor, the steps I took followed extremely closely to a recent blog written by Jo Young and through a lot of exposure to Salesforce and Sales Cloud, it meant I quickly became Salesforce Administrator certified, and in quick succession, a Salesforce Certified Instructor.
Following what was an intense couple of months of training early on – I now divide my time between delivering courses, and as a consultant working with clients looking to implement Salesforce or make changes to their existing Salesforce implementations.
Salesforce is sometimes described as an "out of the box product", and I think of it like a Rubik's cube in that sense (stay with me here, I'll explain why!). Upon buying a Rubik's cube they all look the same, and, if you are like me, you may have a Rubik's cube somewhere in the house that still looks like it did when it came out of the box – all perfectly aligned and correct.
The reason for me keeping it as it was originally, is that I'm just too scared to change it - I don't think I'll be able to get it back to how it looked originally as I don't have the knowledge or skill set. This is often the issue with customers looking to correct previous Salesforce implementations. They end up leaving it as it is out of fear of breaking it further, or not knowing what is in the realms of possibility.
However, every customer is unique and has their own requirements, so every Salesforce instance will (or should!) look different to how it first came out of the box, and different to every other Salesforce instance.
This is why I've loved my time at Stimulus so far; every consultancy project brings a brand-new batch of problems that need unique solutions, every course delivered brings with it a brand-new group of people with different levels of experience, knowledge, and their own motivations for attending the course. No project or course delivered is ever the same as the one before.
When I'm not delivering courses or consulting on a project, I'm now looking to the future to see where I can develop my knowledge further. As it stands, my current focus is on Marketing Cloud and trying to build my expertise up of how the two Salesforce platforms differ from each other, how they can be integrated, and hopefully get to a point where I can deliver Salesforce Marketing Cloud courses.
A lot has happened in a year – one that was been extremely unpredictable to say the least! But this time a year ago, I was still confident I'd eventually find a job that I enjoyed, I was passionate about, and had endless opportunities to continually develop in.
Well, I'm now one year in, and safe to say all criteria are being met – all of which is attributed to the brilliant guys at Stimulus Consulting, and the wider possibilities available when you join the Salesforce community.
As for the idea of another year? Can't wait. Bring on May 2022.