The time of year has come around again! It's the Summer '19 release. We're really excited for some of the new features that are available and have outlined our favourites in this piece.
However, if you would rather watch our really quick video about the release, then here it is:
Enhanced Related Lists (Beta)
One complaint we often hear is about related lists in Salesforce Lightning vs Salesforce Classic. In Classic, you can add many fields to view all the information in one place, whereas with Lightning, it only supports 4 fields. This can be somewhat restrictive if your records contain a lot of information, leaving you clicking into individual related records and eating up your time. Well, good news, you can now see up to 10 columns by switching to the Enchanced List feature in your Lightning record page: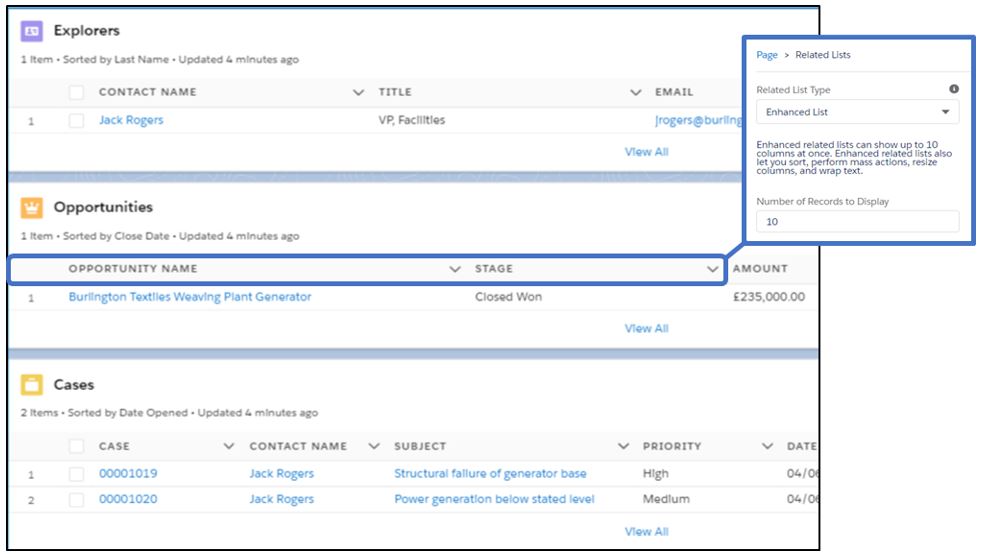 But that's not all! Just imagine you are searching for one particular record in a long list of related records. Until now there was no easy way of doing this, but Enhanced Lists introduces the ability to filter the data so that you can find that elusive record much quicker, just as you would in reports and list views.

In App Guidance (Beta)
Salesforce already has lots of features to keep your users on track with their work, whether that be through visual paths, validation rules or automation. Unless you spend a lot of time in the platform, it can be easy to forget exactly what to do on each page. This new feature allows you to add pop ups to pages, providing guidance and prompts either on page specific functions or general features. This will be particularly useful for onboarding new members of staff, or making staff aware of new features like the pinned related lists from its Spring '19 release.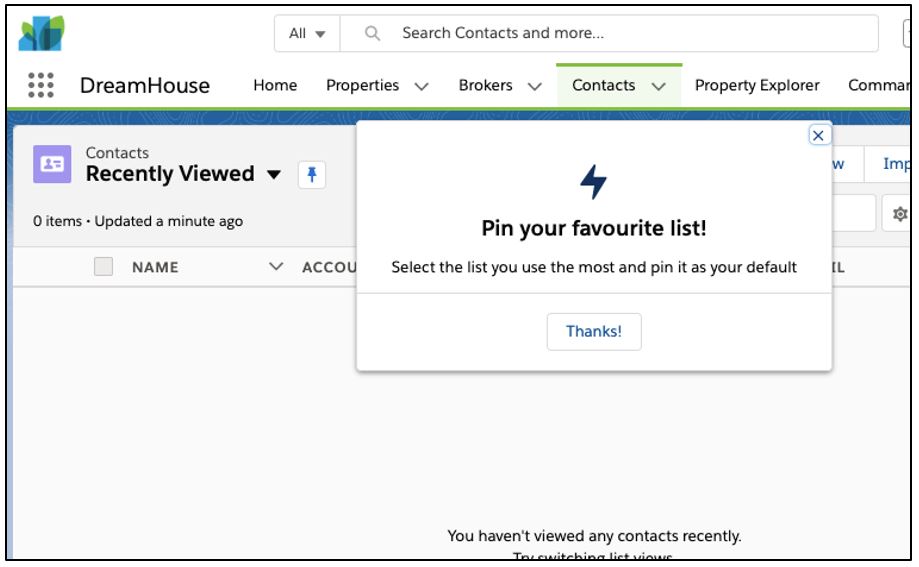 Notification Builder
For almost all of our clients, we have built automation that creates records to save them entering data again and again (Side note: If we've not done this for you then give us a call!). The one weakness of this approach is that you don't get told that this has been done - it all happens in the background. This has led to record duplication for a couple of our clients with users creating a record that has been automatically created already. A really useful new feature is the notification builder, where you can create notifications to go with your automation to avoid this exact scenario. Now, when the record is automatically created, your users will get a notification in the top right of the screen.

Use Salesforce Surveys for free!
We talk to a lot of our clients about the best way to get survey data into Salesforce. Some opt to use a tool like FormAssembly, which has a great drag-and-drop builder and can be mapped to any Salesforce object. Others stick with their tried and tested tool and integrate, such as using the SurveyMonkey Salesforce integration. Others have decided to stick with uploading data (or asking us to!). One of the things we've historically not advised is to use Salesforce's survey tool (released in Spring '18) as it came at a significant extra cost. Unitl now...
Salesforce have now made their survey tool free to use, and it looks pretty great: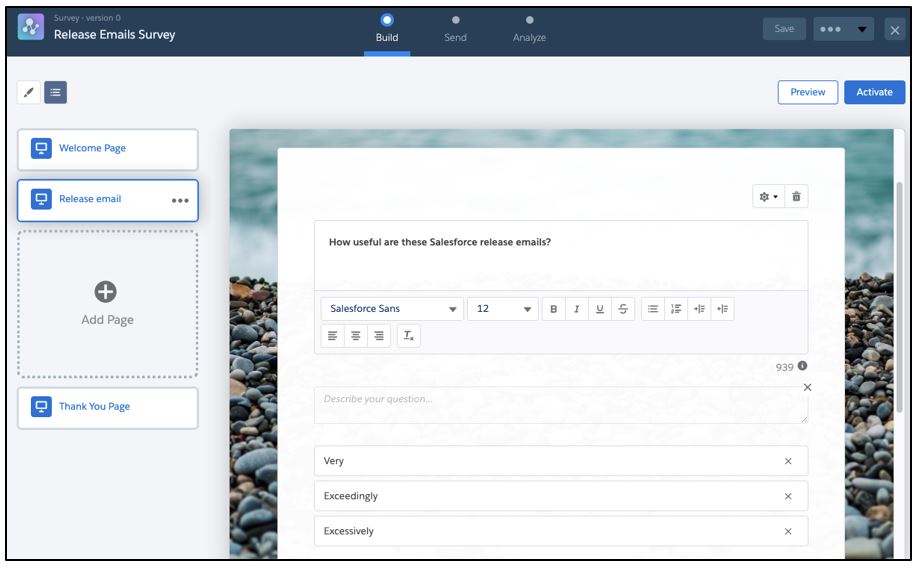 The survey data goes straight into your Salesforce so you don't have to worry about third party tools, integrations or data uploads, just build your reports as usual. You can even automate the sending of a survey based on data in your Salesforce, eg. send a survey when a contact has a particular status. Now, of course there is a catch and that is, whilst the tool is free, Salesforce will only let you have the first 300 survey responses for free. That being said, that sounds like enough responses to make it worth giving this a spin and see if you like it. Given the simplicity of it, it might be the cheapest option in the long run. If you would like any help setting it up, just give us a shout.
If you want to take a look at the Winter 20 release, just click here.
Find out more about our implementation service or why not take a look at our official Salesforce courses.