The Salesforce Summer '21 release is fast approaching and I'm looking forward to having a play around with some of the changes. I thought I would do a quick note on the timelines for the release so that no one misses anything.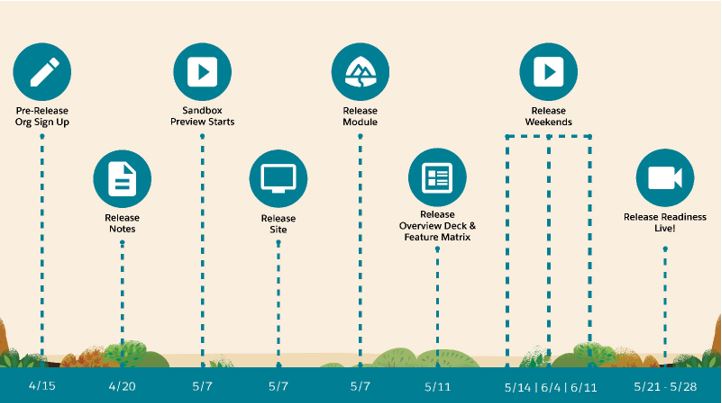 Above is the official Salesforce graphic for the dates, so what do these things actually mean? First remember the dates are all US format so 5/7 for the sandbox preview is not July 5th, it is May 7th.
NOW
Some things have already happened.
Sign up for a Summer '21 pre-release org using this link. This will get you early access to a trial org that you can play around with to see some of the new features in the flesh. This is invaluable as initially there will not be the usual massive list of YouTube videos out there to help you use the new features, so you get somewhere safe to experiment and know what matters to you well before it is released.
April 20th
Depending on when you are reading this blog this may also have already happened. On April 20th 2021 the release notes will go live with the full detail on the changes. These will provide a lot of detail and take some time to review in full. They will appear here Welcome to Salesforce Docs or perhaps more simply go to the Spring '21 notes and change the picklist in the top left to the Summer '21 release Salesforce Spring '21 Release Notes.
May 6th
This is the sandbox date. If you want to play with the new features in a sandbox created from your own org, you will care about this date. Check the full details from Salesforce to understand about refreshes, instances and how to get what you need from the preview window. This handy graphic explains it pretty well and this instance checker from Salesforce is brilliant for easily finding out what you need to do, just check out Sandbox Preview Guide (sandbox-preview.herokuapp.com)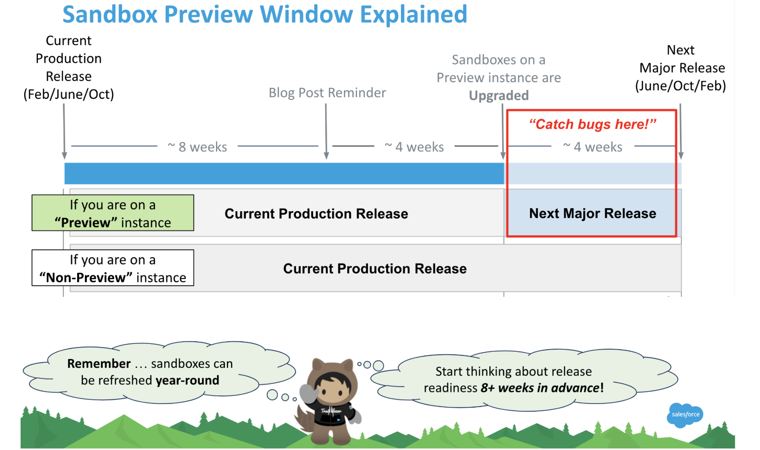 In the following few days sandbox upgrades will take place and the release site will go live with videos, trailhead modules and community forums to support the release.
May 15th
A few lucky specially selected customers actually go live with Summer '21 here. The vast majority of us still have to wait though.
May 21st – 28th
Release readiness livestreams and major publicity will be in full swing here. The full agenda will be posted in early May to the Release Readiness Trailblazer group which you should join if you haven't already Collaboration - Salesforce Trailblazer Community. This is a great resource for lots of extra information and to see what livestreams, videos and trails are going to be most useful for you. The discussion here will also give an idea if people have found any bugs (surely not!) or behaviour changes that might affect you so you can prepare in advance.
June 4th – 12th
This is where general production instances get upgraded. Any Sandboxes that were opted out of the preview detailed above are also updated so Spring '21 officially pretty much disappears here. Between these dates almost everyone will switch to Summer '21.
If you would like to use this release as an opportunity to review your Salesforce org as a whole and let us do a bit of health check, you can find out about it on our website where you can also contact us.