Let's take a look at the cloud specific updates that have been introduced in the Salesforce Summer '22 release.
Salesforce Maps
As always, it wouldn't be a Release Notes Blog if there wasn't a section on Salesforce Maps! There have been some slight changes to Salesforce Maps for the new release, but as always, it looks like they will be very helpful!
Salesforce Maps now supports all languages and accessibility standards that Salesforce does, not only making it more accessible, but also making the integration more seamless between the two.
Alongside the updated languages, Summer '22 also brings access to the most-up-to-date NAICS Codes (North American Industry Classification System).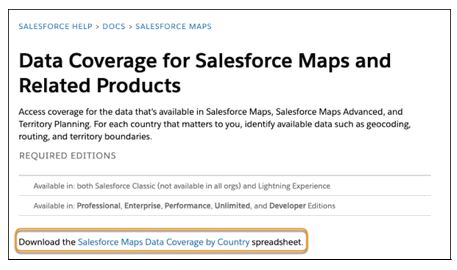 Some further updates to Salesforce Maps come under the Territory Planning functionality. Most of these updates centre around Datasets.
Finally, you can now assign Roles within Territories.
Omni-Channel Flow
Service cloud provides many amazing features to benefit our service centres. Features such as live chat channels, Chat Bots to initialise conversations with customers, Omni-channel and much more. One of Salesforce's key values is automation, and now the Omni-Channel flow supports routing to and from Enhanced bots. This will allow you to build business rules into flows to send a conversation to a Chat Bot or to an agent. This gives you greater autonomous control on conversations and who will receive the piece of work.
Slack for Sales Cloud
In case you've missed out on the last few updates, you may not be aware of Slack, Salesforce's newest way of communication. Currently available as an app or in a desktop, Summer '22 will mean that Sales Cloud will become the newest way to communicate via Slack. As it will be released in beta, there may be upcoming changes to how it appears in Sales Cloud, before being rolled out more widely across other Salesforce platforms. Keep your eyes peeled for how the integration becomes part of your everyday communication tools! There is plenty of information regarding enabling Slack for your org, starting with this page.

Salesforce for Outlook
Those of you that have the Salesforce for Outlook integration, it's worth noting that this integration is scheduled to be retired in 2024, in line with Salesforce's move towards Einstein Activity Capture. For more information, check out this help page. For those of you unsure about this change, your other option is to download the Outlook integration! Find out more about downloading and installing the Salesforce Outlook integration.
Mobile App Entry Event
Mobile apps are at the forefront of many Marketing and Communications businesses, helping communicate with their customers. In the world of Marketing Cloud, wouldn't it be great if we could inject customers into journeys based on their App interactions? Well, now we can!
From June 2022, you will be able to set up your Mobile App events through the Mobile App Event Management screen, which will be available in Journey Builder. You can then set up your Mobile App to Allow MobilePush SDK and then use the New Mobile App Entry Event as an Entry Source.
We can also use this to create an Exit Criteria, ejecting customers when they've interacted with the App in a certain way.
MFA Authentication for Marketing Cloud
For those of you using Marketing Cloud, be aware that during the June/July 2022 months, multifactor authentication will be introduced into all Marketing Cloud accounts that use direct logins. For more information, visit this page.
Please contact us for more information on any of these topics.