Extra, extra read all about it! Einstein Analytics is now known as Tableau CRM.
For anyone who is unaware, we shared this news when we covered the announcement and follow up roadmap plans in our 'Salesforce Tableau Meets Einstein' blog last October.
We have been told about planned integrations between Tableau and Einstein Analytics/Tableau CRM products ensuring a seamless transition for existing customers. Your data in Einstein Analytics will be available in Tableau and vice versa. In addition, Data Prep will be able to prepare your data for Einstein Analytics as well as Tableau. Now, we can see that the announcement about the roadmap plans has translated into rather rapid developments as we look into the details of Salesforce Spring '21 Release Notes.
Salesforce Tableau CRM now gains the ability to use a newly released output data connector to push data prepared in Tableau CRM into Tableau Online to analyse it further and distribute the insights. The requirement is to enable the Tableau Hyper output connection setting.

As you can see the setup is a straightforward data connector authentication.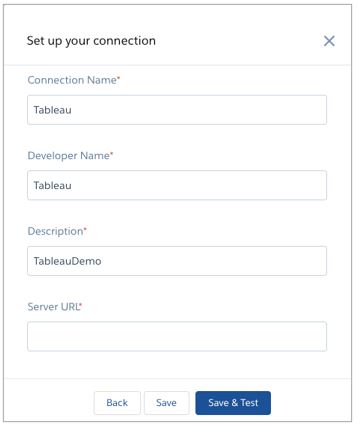 You can use Tableau CRM data prep recipes to prepare the data and then choose your Tableau Online project where you want to perform the analysis. When all is set and done, we see that Tableau CRM and Tableau are coming together to form a powerful Salesforce analytics toolset.
Data sources and data prep is further enhanced with the next beta feature. We can now not only access live data with Snowflake Direct Connector, but also query these live datasets in Tableau CRM using SQL queries. This is requires Enable SQL for live datasets setting to be enabled.

SQL developers will be happy to find an official guide for SQL for Tableau CRM. It is possible to switch to use SQL for general data queries. It is important to point out that SQL for doesn't support all SAQL features. Among the unsupported functionality we find windowing functions, date_diff(), and random sampling.
Finally, we have a new beta feature for asset visibility control. App Manager users can now hide individual assets such as a specific dashboard that is undergoing some update work. It is a very useful tool for Tableau CRM training and asset development. Only colleagues with the Viewer sharing access are restricted, hidden assets are still shown to app users with Manager and Editor sharing access.